Transparency
Smart Fabrics Market Driven by Prosperity of Sports and Fitness and Healthcare Sectors
Press Release •
Jan 24, 2018

&nbsp

16:55

&nbsp

IST
Global Smart Fabrics Market: Snapshot
The global smart fabrics market is prognosticated to be pampered by a surge in demand on the back of the rising prominence of the miniaturization of electronics and growth of the wearable electronics sector. There is a soaring demand for smarter and more sophisticated gadgets gaining impetus from the emergence of smart technology. The market could invite a lucrative growth while riding on the rapid advancement of economical smart wireless sensor networks.
Download Brochure@ https://www.transparencymarketresearch.com/sample/sample.php?flag=B&rep_id=31058
The global smart fabrics market is anticipated to rise at a 19.6% CAGR during the forecast period 2017–2022. By the concluding forecast year, the market could be valued at a US$5.5 bn from a US$2.2 bn achieved in 2017.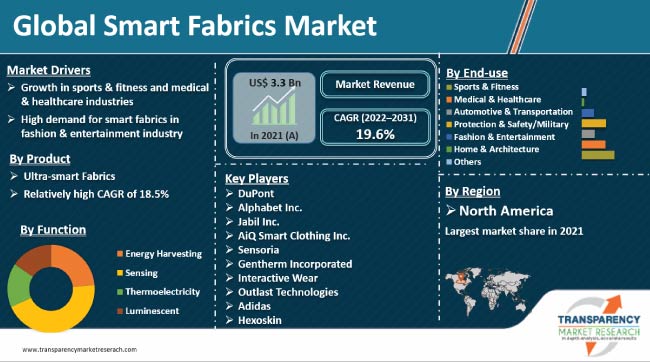 Passive Smart Fabrics Set Tone for Remarkable Growth with Larger Share
The world smart fabrics market is forecasted to witness a segmentation according to product, application, and function, where each category could incorporate a leading segment providing a strong boost to market growth in the near future. Products such as ultra-smart fabrics, active smart fabrics, and passive smart fabrics could help the market cement its growth in the coming years. However, passive smart fabrics are expected to be the pick of the products garnering a king's share in the market. This segment could grow at a 17.2% CAGR.
By application, there could be several opportunities taking shape in the world smart fabrics market. Segments such as sports and fitness, medical and healthcare, automotive and transportation, protection and safety/military, fashion and entertainment, home and architecture, and other applications could be crucial for the growth of the market.
According to the segmentation by function, the world smart fabrics market is projected to look up to energy harvesting, sensing, thermoelectricity, luminescent, and other functions for a rise in demand.
Browse Report@ https://www.transparencymarketresearch.com/smart-fabrics-market.html
North America Controls Market with Higher Revenue Trend throughout 2017–2022
If the geographical segmentation of the international smart fabrics market is concerned, players are envisaged to find promising prospects in North America, which could secure a topmost position in the next few years. This region could expand at a CAGR of 18.5% during the course of the forecast timeframe. However, there could be other geographies such as the Middle East and Africa (MEA), Europe, Asia Pacific except Japan (APEJ), Japan, and Latin America deemed important for the market.
APEJ is predicted to register a faster CAGR of 25.7% whereas Europe with a US$1.4 bn revenue foreseen to be earned in 2022 could be another attractive region for the international smart fabrics market.
Japan and the MEA are foretold to showcase a lethargic growth in the international smart fabrics market until 2022. Japan accounted for a 10.3% market share in 2017. Furthermore, it could lose 123 basis points (BPS) in its share by the final forecast year. The MEA could create an absolute revenue opportunity of US$0.1 bn between 2017 and 2022.
Some of the dominant players in the worldwide smart fabrics market could be Adidas AG, Nike, Inc., Outlast Technologies LLC, Milliken & Company, and Oneill Wetsuits L.L.C.