Haaga-Helia Hospitality Compentence Center
A Successfully Launched Third Short Course by Haaga-Helia, in Estonia
News •
Nov 26, 2015

&nbsp

12:07

&nbsp

GMT
After the first two short courses (October 6th and 28th on the subject of Hospitality Industry Managerial Accounting by the Timo Saranpää and November 5th the course "Demand Management for Hospitality Leaders" by Jere Talonen) the short course delivery continued with the first day of the course "Principles and Practices of Hospitality Revenue Management" on November 17th delivered by Nina Niemi.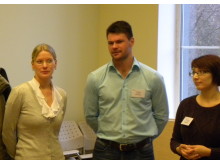 Nina is the lecturer of Hotel and Events Management at Haaga-Helia University of Applied Sciences, a certified Hospitality Educator (CHE) and a holder of the Certificate in Hotel Industry Analytics (CHIA) by STR and American Hotel and Lodging Educational Institute.
The second day of the course takes place at Estonian Business School on December 3 rd. See more information here.
The next programmed course will be "Leadership and HR in Hospitality", taught by Ms. Meri Vehkaperä (Lic.Sc. Bus.Adm. & Econ.). To enroll or get more information, click here.