ARTOTEC
ARTOTEC announcement! We have signed a contract with SNCF
Pressmeddelande •
Jul 03, 2016

&nbsp

13:42

&nbsp

CEST
ARTOTEC announcement! We have signed a contract with SNCF
We are proud and pleased to announce that we have signed a contract with SNCF, the French national railway company.
The Lardy station is the first of five stations planned in south of Paris.
A desired presence in a world-renowned institution and a model for many professionals working in the field.
SNCF has about 7 892 railway stations in France, 5 886 in activity.
Proof that our innovative, attractive and robust equipment meets the needs of a modern society evolving to a sustainable future.
We now belong to the group of official suppliers of Europe's largest railway company.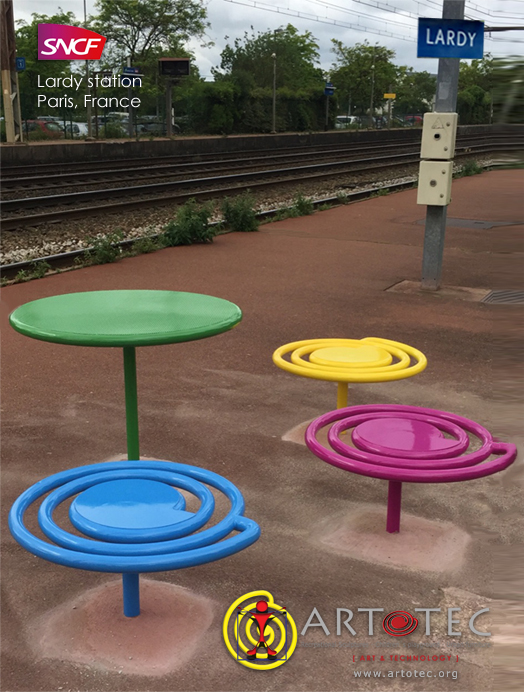 For more information Le MAGAZINE ARTOTEC
________________________________________________________________________
N.B.! Photos, text and proposals cannot be used, copied, reproduced or distributed without the written permission of the authors! Frédéric Iriarte (contemporary artist) and ARTOTEC AB.
© Public works photographs, designs, are protected by law Design copyright and registered organizations OHIM, BUS, ARS, STIM, ADAGP, COPYSWEDE and others [ WorldWide ].
Vill du begära en offert med leveransvilkor?
Behöver du ritningsunderlag i dwg format för gällande säkerhetsavstånd eller fallunderlag?
Fotodokumentation för publiceringar?
Boka tid för möte, utställning, eller föreläsning?
Har du en fråga angående våra produkter?
Våra rekommendationer?
ARTOTEC AB
Santorpsvägen 5
SE-153 30 JÄRNA (Stockholm)
Sverige
info@artotec.se
int. +46 (0)8 551 701 77
int. +46 (0)70 22 37 842
Skype artotec.ab
LinkedIn
Hitta oss på sociala medier
FaceBook
Tweeter
NewsDesk
WordPress
YouTube
RSS
Produktsortiment lekskulpturer och park/urbana möbler från ARTOTEC med [ KONST & TEKNIK ]