Substream Music Group
Fuzzy Empire - underground rock och electronica möts genom Steve Albini
Pressmeddelande •
Feb 06, 2013

&nbsp

09:18

&nbsp

CET
Dublin-baserade elektro-punk-pop-gruppen Fuzzy Empire gör sin debut på Göteborgska indie-electro pop labeln Substream. Bandet som träffats genom Steve Albini - legendarisk ljudtekniker bakom Nirvana, The Pixies mfl, släpper nu sin EP "Everything & Nothing".
När London-baserade dance-producenten Tim Allen, rocksångaren Emmet McCaughey och en musiker enbart känd som 'Hil' möttes i ett rum i Dublin hade de ingen aning om vad som var på gång, men inom kort tog nya ljudlandskap form och rytmer började flöda. Digitalt och analogt möttes liksom punk, grunge mötte electronica och dans.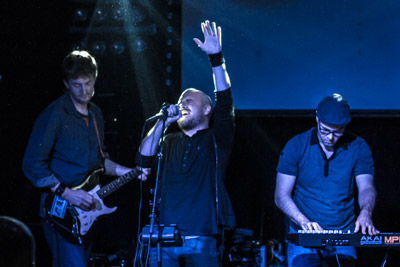 Resultatet har kallats "immaculately produced electro pop" (Tom Robinson, BBC6) och har presenterats av flera "taste-makers" på radio i Storbritannien och på Irland.<>/p
2012 signade bandet med svenska Substream, ett Göteborgsbaserad skivbolag, känt för sina house-labels Clubstream och Dansant. Fuzzy Empire ligger dock direkt under moderlabeln Substream som bland annat tidigare givit ut svenska electro-popbanden Auto-Auto och Helm, liksom This Morning Call, NUN och många andra.
Nu släpps alltså bandets första EP "Everything & Nothing" där spåren "Contraband" och "The Rolling Hours" finns med.
Lyssna
Lyssna på EPn på Spotify, YouTube (musikvideos nedan) eller direkt på Substream.se.
Promos finns tillgängliga för radio och recensioner,m vänligen kontakta press AT substream DOT se

Quotes
"[Contraband is] A Huge Tune - Fresh, Fast, Sharp and Short"
-Tom Robinson, BBC6
"A criminally under-rated band"
-Chris McBride, Queens Radio station, Metaphorical Boat Blog
Best of Ireland 2011 Playlist
-Music weeks magazine
"Contraband is a colossal adrenaline rush of a tune… Fuzzy Empire clearly have their own sound which makes this one of the most exciting things I've heard for some time."
-Paul Lane, Playing It Loud/Unplug The Jukebox
Pressrum
Besök Substreams pressrum för bilder och mer information om bandet: http://press.substream.se

Substream är ett innovativt företag i musikbranschen och en av Sveriges främsta skivbolagsgrupper för elektronisk musik. Vårt kontor ligger på Smedjegatan i centrala Göteborg. Substream grundades 2004 och skapade 2005 och 2006 rubriker i internationell branchmedia som pionjärer inom alternativa upphovsrättslicencer och betalningsmodeller. Idag driver vi 9 skivetiketter, s.k. labels: Substream (electro-pop), Mareld (lugn "deep" electronica), Dansant (dance och uptempo pop) och Clubstream label group (6 labels för klubbmusik, från house till techno och dubstep). Vi driver även marknadsföringstjänsten Subclusive och en av Europas mest berömda mastringsstudios för elektronisk dansmusik.