MDT Oblivia "Entertainment Island 1,2,3 - the trilogy" till MDT 30-31 mars
Finska dans- och performancekompaniet Oblivia visar "Entertainment Island 1,2,3 – the Trilogy" på MDT 30-31 mars. Föreställningen ger tre perspektiv på underhållning. Den borrar sig genom den glittrande ytan och flyter runt i populärkulturens mörka underströmmar.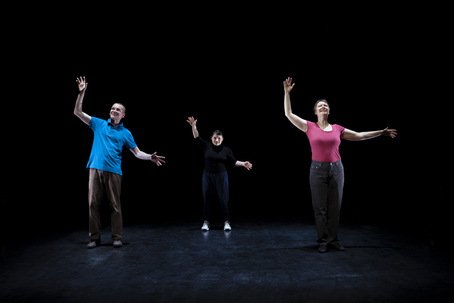 "Entertainment Island 1" tar avstamp i energiska gester och rörelser ur underhållningsindustrins värld. Mekanismer och strukturer inom populärkulturen avslöjas. "Entertainment Island 2" behandlar "lajf stajl". Föreställningen kombinerar lokal kultur med global. "Entertainment Island 3" lyfter fram populärkulturens mörkaste sida med hjälp underhållningens perversioner. Oblivias föreställningstrilogi "Entertainment Island" är en publik- och kritikersuccé som gått på turné i Europa och Norden under 2011/12. Oblivia valdes bland annat till årets kompani i Ballet-Tanz  "Tanz Jahrbuch 2011". 
Oblivia är en internationell dans- och performancegrupp verksamma i Helsingfors.   
Se trailer här:
http://vimeo.com/22119160
För pressbilder: 
http://www.mynewsdesk.com/se/tag/oblivia/images
Oblivias medlemmar har en bakgrund i dans, teori och musik och kommer från Finland och Storbritannien. Oblivias föreställningar är minimalistiska, konceptuella och humoristiska och skapas kollektivt av gruppen. Verken tas fram under långa arbetsperioder och tar upp filosofiska och estetiska frågeställningar på ett kritiskt men också lättillgängligt sätt. 
Koreografi och medverkande: Timo Fredriksson, Anna Krzystek, Annika Tudeer. Ljus: Meri Ekola.
Ljud: Juuso Voltti.
Med stöd av: Kiasmateatern, Produforum, CCA (UK), PACT Zollverein (D), Nordisk kulturfond, Scenkonstkommissionen, Svenska kulturfonden, Helsingfors kulturcentral.
Spelas på MDT 30-31 mars 2012 kl 19:30
 För mer information och pressbiljetter:
Tove Dahlblom
tove@mdtsthlm.se
08-611 14 56 
MDT is an international co-production platform and a leading venue forcontemporary choreography and performance situated in a reconstructedtorpedo workshop in the Stockholm city center. MDT has since 1986supported and collaborated with Swedish international and emergingartists. MDT is supported by Kulturrådet, Kulturförvaltningen StockholmsStad, and kulturförvaltningen Stockholms Läns Landsting.