Nordpil
Results from survey on use and capacity in using graphics to communicate environment and sustainable development issues
Pressmeddelande •
Jul 10, 2012

&nbsp

12:33

&nbsp

CEST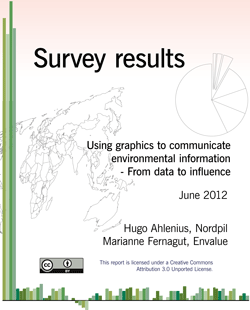 Some time ago me and my colleague Marianne Fernagut prepared a survey on the use of graphics (charts, maps, diagrams) to communicate environment and sustainable development. It has taken us a long time to summarize the results and responses that we got, but it is finally done! We still believe that the results are relevant, even though time has passed.
The results have now been published in a short report, and they provide an interesting picture of these users' needs and capabilities in terms of preparing illustrations and using graphics for the communication of information related to climate change, environmental issues and sustainable development.
We received more than 300 responses to the survey, and the results have been summarized in an 18-page report.
http://nordpil.com/survey

Apologies for the delay, and a big thanks for everyone that responded!
Nordpil offers freelance consultancy services in custom map design and cartography, in illustrations (charts, diagrams and other graphics) and in geographic information systems (GIS) including research and data preparation. Map design includes interactive maps (WMS, ArcIMS) and thematic maps. In addition we provide training in better visual communication and map-making. For more information please see http://nordpil.com