2016 Lunar New Year Top 5 Auspicious Foods
Blog post •
Jan 20, 2016

&nbsp

17:48

&nbsp

+08
The long festive holidays may have just been over but right around the corner is the long awaited Chinese New Year. I am sure many of us are excited about the long weekend awaiting!While the recent trend in Singapore has been to take the opportunity and travel during this period; many of us still spend weeks ahead preparing for this special occasion.
Over the years, Chinese New Year has evolved into more than just a traditional ritual. It has also become a celebration of new beginnings and fresh starts, an opportunity to meet and gather with friends and family, as well as the excuse to feast to our hearts' content! Chinese are known to be extremely superstitious and the Lunar New Year is indeed laden with traditional superstitions and beliefs that we adhere to every year. Needless to say, it is no exception when it comes to our food. Therefore, why not kick-start Lunar New Year at Peach Blossoms @ Marina Mandarin Singapore with the following auspicious traditional Chinese dishes known to bring Good Luck, Good Health, Wealth and Happiness?
1) Blossoming Abalone Treasure Pot (Pen Cai)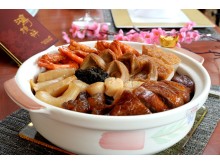 Blossoming Treasure Pot
This lavish Cantonese dish came originally from Hong Kong where locals from the area gathered the best of foods available and cooked them together for the Emperor and his army. Served with best of ingredients like whole abalone, fa cai (black moss), fish maw, sea cucumber and scallops, this festive casserole dish also symbolises prosperity and abundance. The Vegetarian variation of this Treasure Pot is also available at Peach Blossoms.
2) Chinese New Year Cake (Nian Gao)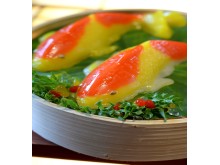 Specialty Cheese Nian Gao
This sticky rice cake has been a favourite Chinese New Year snack for over 3000 years. A literal translation of Nian Gao is "year high" which can be inferred as "better year ahead" or "promotion". Therefore, many Chinese consume this delightful sweet snack for a better quality of life. At Peach Blossoms, our chefs bring in a modern twist to this traditional dish with variations like Cheese Nian Gao and Green Tea Nian Gao with coconut milk. Both a must try!
3) Pumpkin Cake (Nan Gua Gao)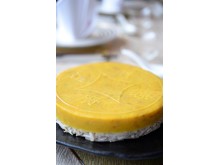 Pumpkin Cake with Shredded Yam
Pumpkin is not only a symbolism of prosperity, abundance and descendant's luck, this auspicious fruit is believed to absorb energy from the ground to manifest gold. Traditionally, any food with the character "Gao" is also a lucky food that represents greater heights. Grab a Pumpkin Cake with Shredded Yam available for takeaways at Peach Blossoms for double prosperity this Lunar New Year!
4) Pork Gold Coin (Ba Kwa Gold Coin)
Ba Kwa (Pork Gold Coin)
Ever wondered why Ba Kwa is always available at home during Chinese New Year? Pork is traditionally eaten in the Chinese Culture for strength and abundant blessing. Shaped like a gold coin, our Pork Gold Coin symbolises not only strength and abundant blessing but also multiplied wealth!
5) Yu Sheng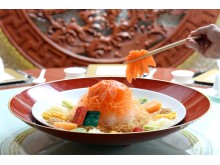 Toss to a year of bliss and abundance with this prosperous dish. Yu Sheng is referred to as "rising abundance". Sheng has the double meaning of "rise" and "life". In general, this dish signifies prosperity and longevity. At Peach Blossoms, our Head Chef adds a fruity touch to the dish with mango, strawberry, rock melon, jackfruit, kiwi and pomelo.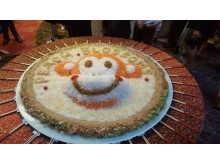 At Marina Mandarin Singapore, we kicked off the Lunar New Year with a 88kg Mega Yu Sheng skilfully crafted into an auspicious monkey design by our chefs from Peach Blossoms. The event was also held at the auspicious timing of 1838 for a prosperous start to the New Year.
How are you celebrating your Chinese New Year? Why not start off your New Year with these top 5 auspicious dishes for a year of bliss, prosperity and wealth!