4 Reasons You Should Rethink Your Marketing Channels Right Now
Blog post •
Apr 06, 2016

&nbsp

09:00

&nbsp

+08
Communicators, if you've been busy meeting deadlines and planning for the next quarter, you may not have had time to make sense of the whole flurry of announcements, game-changing updates and events in March. We didn't want you to miss out, which is why we combed the month's best and worst news to put together this Marketing Channel Strategy update:
1. #100MILLION Challenge: Test the Power of Your Platforms
On 7 March, Mynewsdesk launched a global campaign giveaway for 1 brand to reach 100 million people. Yes, you heard us right. If you're wondering how that's possible, it's because we believe in the power of our all-in-one platform. The challenge embodies the level of ambition communicators should have for their content and platform performance.
The challenge is now closed but stay tuned for news on the worthy winner - and how we will help the winning story reach millions of people! In the meantime, why not try a free demo of the digital newsroom that 5,000 brands are already using to get their news out?

2. The Instagram Algorithm: Organic is Now the Only Way to Go
If you haven't already heard, Instagram announced on 15 March that posts will no longer be organised chronologically. Instead, adopting a Facebook-style algorithm, Instagram will reorder the photos and videos on users' feeds based on how likely users would be interested in the content, their relationships with the accounts posting and the timeliness of the posts". Earlier this month, Twitter also hopped on the Facebook-algorithm bandwagon to clear up the clutter many users encounter on their Twitter feeds.


From a marketing perspective, this means brands on Instagram will have no choice but to improve the quality of their content. It is no longer enough for brands to have a large base of followers because it is no longer guaranteed that their photos will be prioritised in their followers' feeds. Think of it this way: With the new algorithm, valuable content will become Instagram's version of SEO. Marketers will also have to rethink which metrics really measure success.
3. Insta-apocalypse: So… Should Your Brand Really Go Social?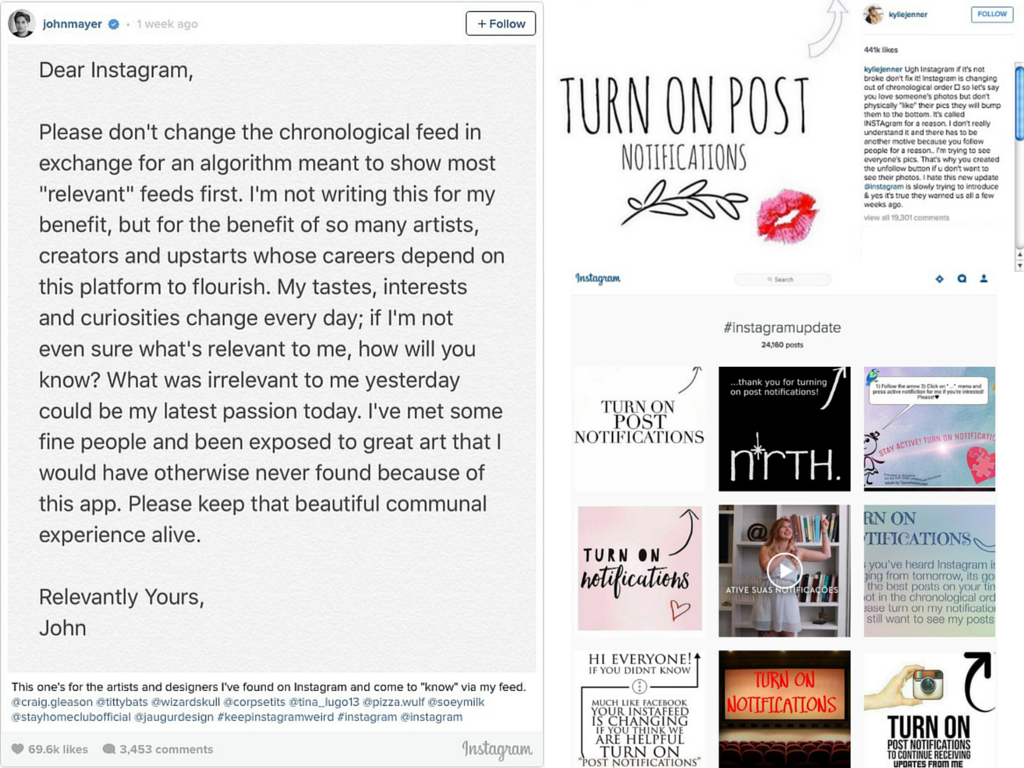 Everyone from singer John Mayer to everyday folks is reacting to the Instagram algorithm announcement with criticism that Instagram will become a popularity contest. The tremendous backlash has been too much for Instagram to ignore. As Matt Kates, VP of digital engagement agency HelloWorld, says, "One of the reasons people love using Instagram is the organic nature of content sharing and compromising that may undermine user love."
This points out what Instagram users care about - authentic experiences. You may also remember from our Advanced Guide to Content Marketing that consumers don't like meeting brands on social media.
"90% of consumers only converse with brands on Facebook about service needs.
- Damien Cummings, Head of Digital Marketing at Standard Chartered Bank
If you don't believe us, just take a look at the type of comments Airbnb gets on its Facebook posts.
With the rules of the game changing across all social media platforms, marketers should not mindlessly scramble to aim for "top of feed" status. Instead, brands need to carefully reevaluate if and how they should invest in social media at all.
4. So What Now? Quality Content, Deconstructed
So if you do decide that social is the way for your brand to go,you must aim to create relevant, engaging content that gets you to the "top of feed" on Facebook, Instagram and/ or Twitter.
So what is quality content?
"Digital experiences need to be personal, predictive and personal."
- Shantanu Narayen, Adobe CEO
Like we've said above, users, especially those on social media sharing platforms, care about authenticity and experience. These are key sentiments shared at the recent Adobe Summit in the U.S. by Marketing experts from Adobe, McDonald's and more. In fact, you can watch their keynotes online (you're welcome for the tip!).
Check out our pick of the top free content creation tools, as well as experts' advice on how to refine your content marketing strategy. Just a couple of days ago, Google also made its Nik photo-editing suite completely free for public download. Now there isn't any excuse for your brand, no matter how big or small, to not make a tremendous impact with great content.
That's a wrap for March! We hope you've enjoyed this summary of the month's developments. With so much change going on, why not take a look at our free report on digital PR?