Creating Value with Content Strategy - Digital Marketing Summit Asia
Blog post •
Jun 12, 2015

&nbsp

15:21

&nbsp

+08
Last week, Julia Tan (Team Lead, Asia) was invited to share about "Creating Value with your Content Strategy" to about 100 representatives from startups and SMEs at the first Digital Marketing Summit Asia on 4 June 2015. Also speaking at the summit as the infamous "Xiao Ming" from Sgag, Twitter's Emily Huo, Zendesk's Timothy Kua, Singpost's Robert Winkelmann, and more.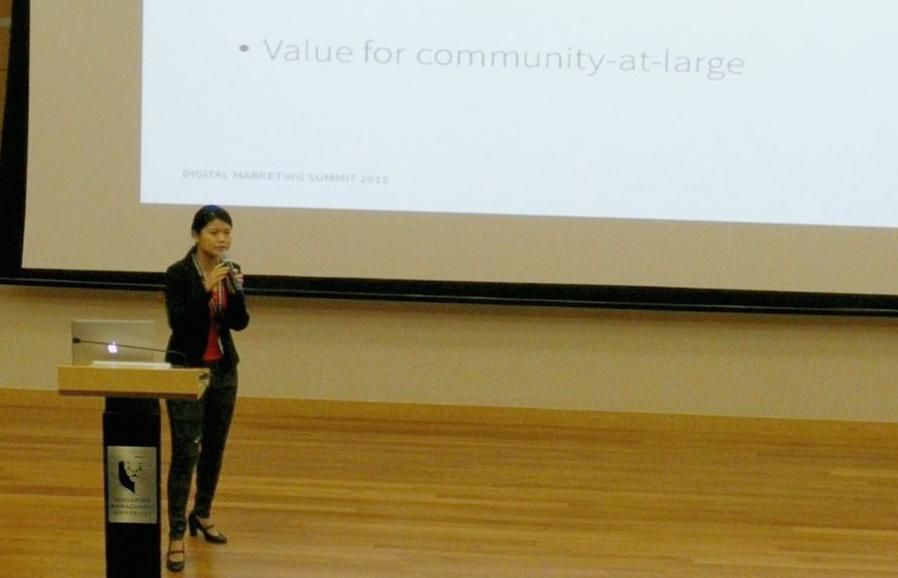 (photo tweeted by @HerbertRSim: 2015 #DMsummitAsia: "Creating Value With A Content Strategy" by Julia Tan, @mynewsdesk)
With costs & resources are top concern for startups and SMEs, communications often become the least prioritised. In a resource-challenged situation, how can one stand out, and reach relevant audiences? During Julia's presentation, she uncovered two "secrets" of media & influencers that businesses can model after, to build authority in their respective areas, and stand out from the rest.
#1 Media & Influencers understand the power of storytelling.
Engaging story-telling is real-time, and provides value in two areas: Entertainment or Educational values. To make it even more powerful, one can find the sweet spot that incorporates both entertainment and education.
Apply to your business:
Story-telling: A content strategy that brings value will establish thought leadership and relationship with your audience. To apply Content Strategy to your business, start by mapping out the buyer's journey, and then matching it with content that provides value at each stage.
She likens the process to that of courtship.
First, there needs to be Curiosity/Interest. When that happens, there is an opening for you to show what you can offer, or what you are as a brand. When you are able to inspire, or provide value, then it triggers Excitement. There is now, an expectancy to know you more as a brand. The relationship now has to be established with Trust before it can go forward. Then, there needs to be continual Engagement via exchange of values.
To proceed from each stage, couple content with a Call-to-action. (See example illustration)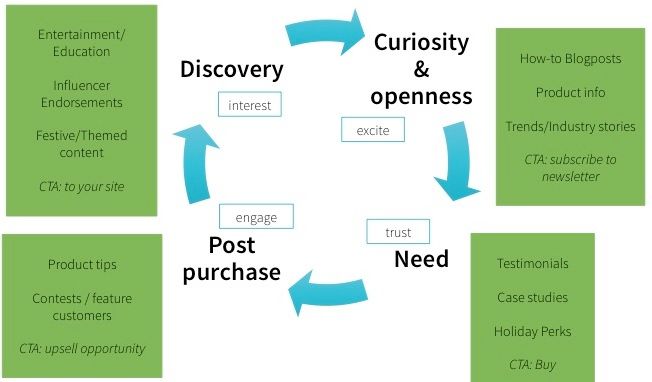 #2 Media & Influencers always purpose to own the audience.
Instead of "renting" an audience from others, wouldn't it be better to sift out the irrelevant crowd, and get direct access to those who find value in what you have to offer?
Apply to your business:
Build a home for your brand. A home is where you can host guests, let them interact with you, and you would want them to feel at home too. People should know where to find you when they need to. Pool together contacts, content, and grow from there. Set up a subscription centre for interested parties to get in touch, and follow your content. Schedule to publish content on your calendar to ensure fresh and relevant information for your target audience. Remember to distribute your content to other channels (social, email, earned, etc). Keep conversations going, by activating comment boxes and social channels on your home. Of course, the remember to respond to those who reach out!
Want to build a content home for your brand? Have a chat with us, or try out here.