Get tips from journalists & bloggers on how to make them happy!
Blog post •
Jul 31, 2013

&nbsp

10:30

&nbsp

+08
Wonder why your media release didn't make it to print? Or wish you knew how reporters decide which media release to feature and which one to chuck?
Wong Tsz Hin, Editor of Asia Food Industry told us that: "A good story is one where all the relevant information is presented clearly without an overly zealous approach on selling the product or company. In addition, it should provide a background to things and not just the history of the company. The story should also address the problems and how they are solved, as well as its implication on the industry."
Who better to hear these answers, than from the reporters themselves? We spoke to more reporters based in Asia Pacific to find out about their likes and dislikes when it comes to receiving media releases from brands.
Remember that the relationship between brands and reporters is a mutually beneficial one; they need content and you have content. So, how do some brands develop better rapport with the reporters? The answer is simple: instead of frustrating them with their releases, these brands know how to keep reporters happy. This then, begets the question: Is your brand's media release frustrating them or bringing a smile to their faces?
This week, we give you a sneak peak into our infographic and report for tips and tricks (from journalists and bloggers) on how to delight them with your releases.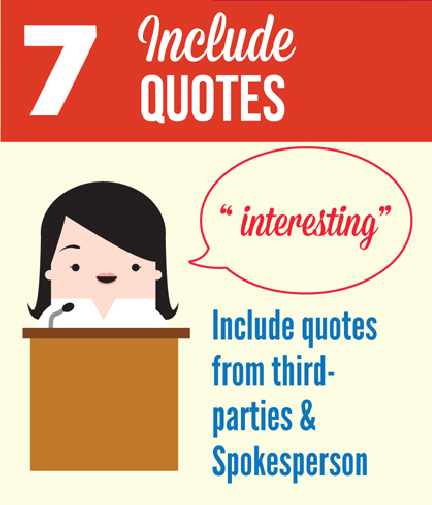 This is an excerpt from Section 1 of our report (7 tips to Make Reporters Happy) :
#Tip 6: Include quotes and endorsements from spokespeople and third parties
No matter what your product or service is about, credibility is always what a customer looks out for.
Our purchasing decisions are influenced by reviews and ratings found on forums, social media and blogs, as well as what we hear from friends and family. Therefore, you should include interesting quotes from spokespersons, industry experts, third parties and even customers in your media release. This will add credibility to your product or service. Reporters will also be able to use these quotes in their feature article.
TIPS
Let others talk about your product by sending your company feedback/suggestions/opinions through....; you can also gather valuable insights when you do that.
For all "7 tips to Make Reporters Happy", get the complete infographic and 2013 Brands and Media (Asia) Engagement Survey Report here.
Next Week: Are you frustrating the reporters?
//Shanice, Social Media Marketing