Getting a better insight into your PR efforts with analytics
Blog post •
May 29, 2014

&nbsp

10:00

&nbsp

+08
With Mynewsdesk, your newsroom analytics provides you with key statistics for your brand to give you a better insight of your PR efforts. Statistics must also be accurate which is why there is the option of filtering out search engine spiders and crawlers so you get the number of unique visitors to your material. Spiders and web crawlers are bots that systematically browse the web, locating and indexing websites for search engines.
Are your visitors finding what they are looking for, or are they getting frustrated and leaving?
Not only is it important for you to be able to track the total number of views to your newsroom and materials (e.g press releases, blog posts, images, videos etc) within a specific time period, it is also vital for you to measure your reader engagement by tracking the average page views and average time spent on a page.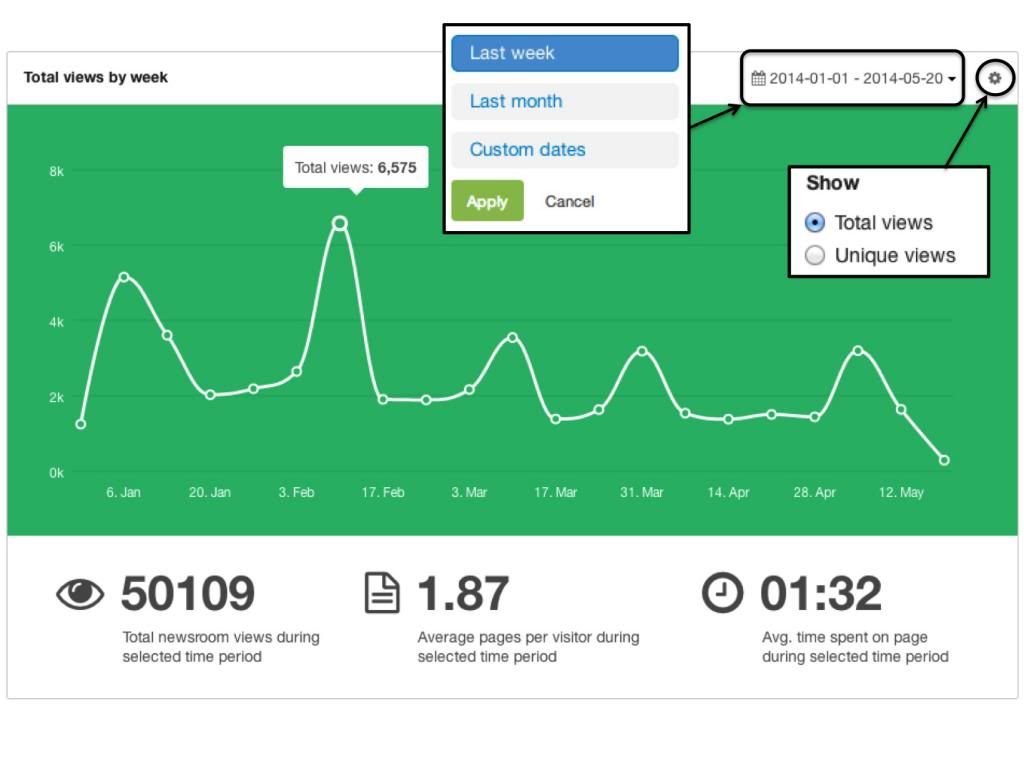 How can you increase visitor dwell time and engagement with your brand?

2 Ways:
Add more related materials which could consist of another story, videos, images, events or links with the destination being another page in your newsroom.
Embed videos and images into your releases to create more engagement within the story.
Understand your traffic
Where does your traffic come from?

Organic - Visitors who found your material on a search engine
Referral - Website referring visitors to your material
Direct - Accessed through a direct link to your material or a link from your newsroom to your material
Email - Visited your material through a link in an email from your newsroom
RSS - Material visited through your RSS feeds
Referrers
What websites linked your visitors to your material in your newsroom?
For instance, you will get a rough idea if a review gets posted on a website or someone on social media is talking about your brand which links to your newsroom material when you see a traffic surge from a particular site.

It also enables you to be aware of which social media or websites you should be engaging with based on the amount of activity.
Recent Visitors
This will show you your last 1,000 visitors in the last 30 days who have visited your newsroom or viewed your material. Having this information will not only help you in getting an overview of which country or region your visitors are coming from but also lets you know which other country you have potential to focus your releases on to get more traction and coverage.
These are just some of the statistics we provide you with to give you a better insight into your PR efforts.
Stay tuned for our next blog post to find out more about using analytics to help brands achieve their PR and communication goals.
Want to know more? Check out our latest white paper The rise of the brand newsroom which gives in depth advice along with a step by step guide on building your own brand newsroom.
//Scott Andrew, Marketing @MynewsdeskAsia