Lars Nerhus, a legacy of Vega, celebrates Vega's 120th anniversary at Boat Asia Singapore!
Blog post • Apr 16, 2012 17:49 SGT
From left: Lars, Meggi, Aqila, Shane
It was with great pleasure that Mynewsdesk Singapore was able to sponsor Lars Nerhus' trip down from Norway to Singapore to celebrate Vega's 120th year of existence. Lars Nerhus is the great-great-grandson of Ola Nerhus, Vega's designer and builder. The past weekend, Lars joined Shane and Meggi (Vega's discoverers and current owners) at Boat Asia- Asia's largest and longest running boat show.
Lars Nerhus hails from Bergen, Western Norway, where he is a navel architect. He designs vessels for a living and is currently a project manager for ship design at Sawicon AS. Lars Nerhus is also the great-great-grandson of Ola Nerhus, the designer and builder of the Vega vessel way back in 1873. Being linked to Vega by heritage, meeting and speaking with Lars came upon me as a surreal glimpse into the 19th century Norway, when Vega was shaped into existence and its legacy lovingly carried on to date as a humanitarian vessel transporting education and medical equipment to remote islands in the Southeast Asian region.
The vessel welcomed her visitors at Boat Asia this year, held at Marina @Keppel Bay from 12th to 15th April.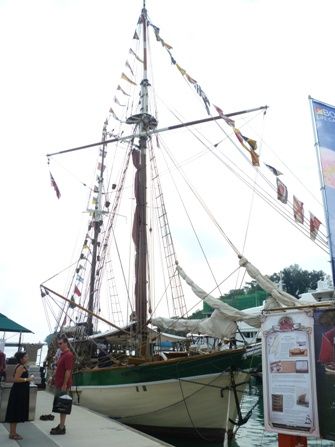 (Source)
Lars Nerhus brought along with him the original half model of Vega, as shown below:
Having only seen the half-vessel model, this is Lars' first time on board Vega. I asked Lars what he thought of her current design, and in the words of an experienced ship designer, with a hint of Scandinavian charm- "I like it very good. It seems as though the restoration was done very perfectly. The hull and the lining inside of the hull are very important for ventilation. The design is also very suitable to the cause."
Though Lars was in Singapore last August to inspect a vessel, this is his first opportunity exploring the island. So far, he thinks that Singapore is "very well-kept and there is a good system going. Many Scandinavians like Singapore!" and he is particularly eager to try out the Asian cuisine. Does he own a boat back in Norway? "Yes I have a few boats in the Hardanger Fjords. Five days a week I spend in the city working, and on weekends I go to my boats." We long to utter those same words.
About Ola Nerhus
About the Historic Vessel Vega
About Boat Asia
TMX Show Productions, producers of Boat Asia, announced plans for Asia's largest and longest running boat show to return to the breathtaking Marina at Keppel Bay from 12 -15 April 2012. Since it moved to Marina at Keppel Bay in 2007, Boat Asia has become a driver for the marine industry in Singapore and the region as well as positioned itself as a unique marketplace for businesses to showcase their products and services to the regional and global marketplace.
Carrying forward its unique concept as a show that integrates both boating and lifestyle elements, Boat Asia 2012 will once again offer great networking opportunities with a packed program of activities which will cater to boating and non-boating enthusiasts alike.
By Aqila Abu Xiao Qi
Comments (0)