Musings of Mynewsdesk Singapore's First Intern
Blog post • May 25, 2012 17:06 SGT
My desk at Mynewsdesk Singapore
Second week into my summer break and I had somewhat already bid farewell to bumming around and catching up on everything I wanted to do (but couldn't) during term time. It's with great pleasure that I tell you the reason – my internship with Mynewsdesk Singapore had just begun!
Oh wait I realized I haven't introduced myself. Hi everyone, I'm Priyaa, a second year Communications and New Media undergraduate at the National University of Singapore. I just want to share with you my experience as an intern here.
I walked into Leo's office at 8.20am three Mondays ago having no clue what my stay here was going to be like but I was really hyped about it. Leo is the Managing Director at NHST Media Group Asia and the one I was interviewed by as well. He introduced me to the team and said Robin and Aqila would be my mentors. I was introduced to most of the staff in the other office too. I got to know more about how Mynewsdesk functions and what the areas of focus are through them.
I had no preference as to what I wanted to do mainly because I am here to learn and would like to make the best out of my time here by learning as much as possible. I started off with exploring Mynewsdesk's website from the backend point of view to understand it as a user. I was also taught how to set up a newsroom for a client company and it was pretty interesting to learn all about this online pressroom, gaining first- hand experience at the same time.
Apart from learning that, I published press releases for existing clients of Mynewsdesk as some of them hadn't published their latest ones. It was good to find out that the respective companies are free to write and publish their own press releases once they're confident with using Mynewdesk portal despite engaging Mynewsdesk's service. This's somewhat differed from what I was taught in uni – Every time a company outsources its Public Relations efforts, the service provider will be the one fully in-charge of everything. This struck me as an example of how theory doesn't always translate into reality.
Managing Mynewsdesk_sg's Twitter account (with Aqila's help of course) was fun and insightful. I wasn't really attracted to the whole idea of tweeting about my activities and whereabouts so before I started on this, I wasn't well-versed with using Twitter at all. Now, I'm more than familiar with what #, @, RT, shrink option and scheduling mean. It's really interesting to read what our followers post and if they're in line with what we're looking to post, I retweet them or I source for articles from my own list of websites and blogs. So hey, if you're on Twitter and there's a tweet in your homefeed by Mynewsdesk_sg, it's by me (at least for the time being or so)! 
A lot of things I've learnt along the way about managing a company's Twitter account:
• It's important for a company to come across to customers as having a human voice and isn't just having a Twitter account to show its presence in social media
• Short and succinct captions attract people the most
• It's important to read and understand the material one's posting and not just decide whether to post or not based on the title of the article 
• It's not necessary to tweet everything; just highlights or interesting nuggets will do
Last week, Aqila and I met with a journalist from ScandAsia magazine who was planning a feature article on Vega, a humanitarian vessel that provides medical and educational supplies to remote villages in Indonesia once every year. Everything I had learnt about media writing and journalism resonated with me during the meet up as I saw the relevance between what I had learnt and what I was experiencing.
In a nutshell, these are the experiences I've gained thus far so stay tuned for a second (and interesting) update!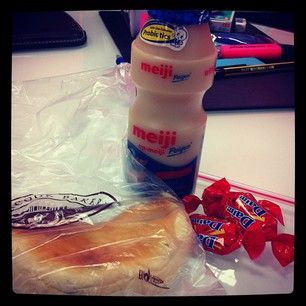 Here are all the goodstuff I've been introduced to since starting work here!

Comments (0)