The Changi Airport Orchestra: Good service goes miles, literally #TellYourStory
Blog post •
Dec 06, 2013

&nbsp

14:29

&nbsp

+08
As the world's most awarded airport with more than 450 accolades since it opened in 1981, Changi Airport is without a doubt, Singapore's pride and joy. Its accolades however, are not won solely based on having features like the Kinetic Rain Sculpture (which is also billed as the world's largest kinetic sculpture) or the Butterfly Garden.
No. It is all that, and the standard of service from the frontline staff. Good service goes miles, literally.
As James Tan, Duty Terminal Manager (DTM), aptly puts it: "I think the airport is the first impression of Singapore's service quality. It is after all, the place where passengers (foreign visitors) first step in and last step out of Singapore, so it is really important that we make a good first impression," says the 26-year-old embodying a sentiment that we can also find in the airport's other frontline staff.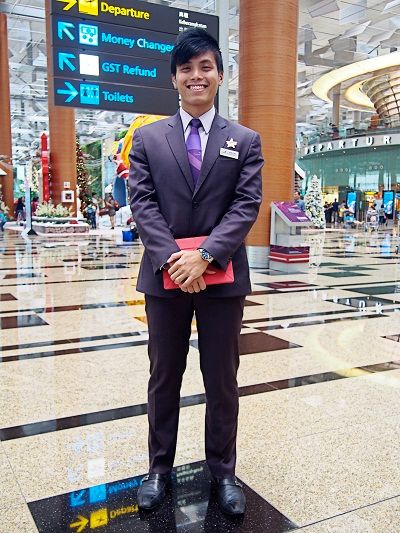 James Tan, Duty Terminal Manager at Changi Airport
Did you know that Changi Airport Group (CAG) collaborates with more than 200 companies and has an airport community of about 32,000 people under its belt? It is no wonder the airport sees the importance in ensuring a seamless and memorable airport experience for all its passengers and visitors; service excellence is of utmost importance. How then, does the airport manage so many people and yet still ensure quality service that is consistent throughout the airport?

For that, CAG cues in the Changi Airport Orchestra. Why an orchestra you wonder?
In a good orchestra, all members with their different instruments have to play to the same tune. It is important that everyone is in sync. CAG, being the airport orchestra conductor, instills an airport-wide service culture through its comprehensive Quality Service Management (QSM) programme, which is akin to the single music score that all orchestra members share.
The QSM programme, which started in 1988, is a 2-day long programme that all employees go through. It includes the Changi Orientation Programme and the Ready-to-Serve Programme, both help to induct the employee into the work environment, and to impart the right service techniques for them to deliver the Changi way of service.
"At Changi Airport, it's different from other service lines because some passengers' moods are more easily affected than others. For example, they are more easily irritated if they just completed a long haul flight. The QSM training teaches us how to handle difficult situations, what not to say and most importantly, to bring the positive attitude to passengers," shares James as he recounts what the QSM programme has taught him.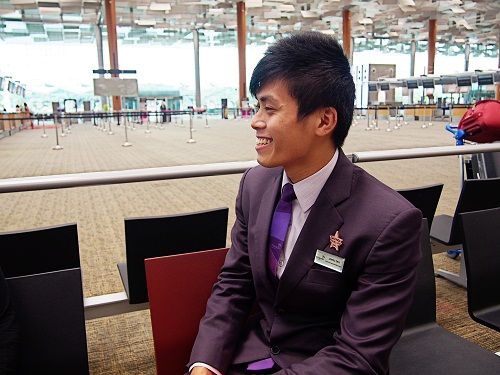 CAG also gives recognition to its staff and workers by coming out with incentives and awards such as the Extra Mile Award, Changi Service Star, Service Performance Incentive and First Class Service Act. James is a recipient of the Bronze Service Star award and was awarded the Extra Mile Award twice! We should also point out that he won his first Extra Mile Award during his internship with CAG. After which, he joined CAG as a full-time DTM upon completing his Diploma in Civil Aviation in February this year.

James shares with us his most memorable experience, which was also what earned him his first Extra Mile Award during his internship.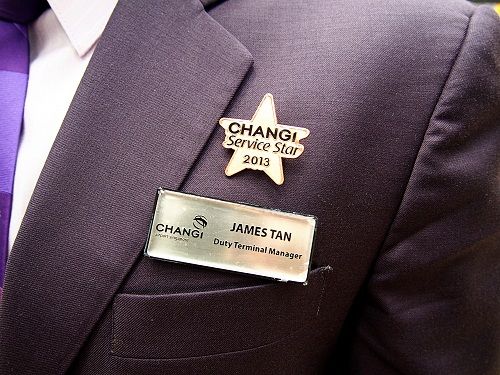 "There was an old man loitering around and he wandered into the Ground Operations Office, which is where my office is at. He also peed in his pants so we helped him to clean up and change into a new pair. Then, we realized that he is actually a missing person so we were really glad we were able to help him link up with his family."
Just like an orchestra that requires many different musicians to come together before a beautifully sound musical piece can be created, it's the same for Changi Airport. In their case, it's the shared commitment and dedication among their many partners, agencies and staff that makes it possible for them to be able to deliver a first class airport experience.
// Shanice, Social Media Marketing
We are happy to feature Changi Airport as a part of Mynewsdesk's #TellYourStory series. #TellYourStory is a series to showcase stories from different brands, told by the people behind it and whom, made it happen. Find out what goes on behind-the-scenes of the brands you know, love and are inspired by.