Atos in APAC
SHOPPING IN A DIGITAL AGE
News •
Dec 23, 2015

&nbsp

13:32

&nbsp

+08
Extract from Atos Thought Leadership Ascent Magazine
"Views from our digital future" – Winter, Spring 2016 edition
1.Pay with personal data
"The truth is," says Guy Lidbetter, "this is already happening – every time we enter our email address in order to read an article online, for example. Is there really any difference in paying for a sweater by 'blue-toothing' a set of personal details across the counter? The only barriers are cultural ones, and we may well find that the Millennial generation, which has grown up in the data economy, finds it entirely natural to conduct transactions in this way.
"The way you generate value here as a retailer is via multi-sided markets, in which the value of the data is realised across several providers. We can expect these to become much more sophisticated. But the principle is the same one we already see – especially in sectors such as automotive, health and travel: 'I give you a discount on this ticket, if you also book a hotel and hire a car from our partners'."
2. Beacon benefits
Bluetooth Low Energy (BLE) Beacons are set to come into their own, especially in environments such as business conferences, sports venues and retail parks. "The main advantage," explains Santi Ristol, "will be proximity and the contextualized services enabled by them. Currently, you have to download an app in order to receive beacon notifications, but URL-based beacons are going to become an alternative in the future.
"In that scenario, consumers will likely opt in using a digital persona. And why wouldn't they? It's a win-win: consumers get access to better offers; and retailers sell more goods!"
3. Print at home
A part breaks on your washing machine, and you discover that the model is now out of production. The manufacturer is unable to provide a replacement for the simple reason that it's not economical to produce the item in low quantities. In 2015, you've got a problem. But in 2020, you'll find the manufacturer offering to sell you a CAD file to print the part on your at-home 3D printer. "Better still," argues Lidbetter, "you'll probably be able to get the design cheaper from a 'thing store'." These will be similar in concept to the app stores of today, a style platform enabled by a new wave of micro-entrepreneurs to sell designs for physical objects directly to consumers.
"We can expect the cost of 3D printing technology and the raw materials required to drop dramatically in the coming years," adds Ristol. "At-home 3D printing is going to become entirely viable, with the benefits for the consumer in terms of cost, time and user experience."
4. Buying a car
As with many emotional purchases, the process of buying a car will begin in the social sphere. The concept of 'social shopping' will see consumers leverage sentiment analysis to help shape their purchasing decisions. But with the advent of content marketing and the growing scourge of fake reviews, how can people really trust what the data is telling them? The answer could lie in a new wave of tools such as the (fictional) MyCommunity Analyser in our example. These will enable customers to leverage their own personal networks – and customize the sources of the data analysed – in order to deliver more trusted results.
5. Connected hotel
"Hotel guests will come to expect an end-to-end customer experience to be delivered via an app," explains Ristol. "It will rely on you granting access to your data. You will probably have different personal data profiles stored in the cloud for this purpose – perhaps one for business and another for leisure, for example."
At this point, alarm bells may be starting to ring among the privacy conscious. But they shouldn't be, claims Lidbetter. "This is where the 'right to be forgotten' will come into its own. You'll be able to wipe all your data from the app at check-out. Whilst we can expect regulation to ensure this becomes a required option, market forces will also play a role as the social web will reveal those that protect your privacy… and those who don't." Sounds good. But what about other potential drawbacks? "There's definitely a risk of being bombarded with unwanted notices and offers," admits Lidbetter. "But you can mitigate against that by allowing people to set their preferred levels of interaction in advance."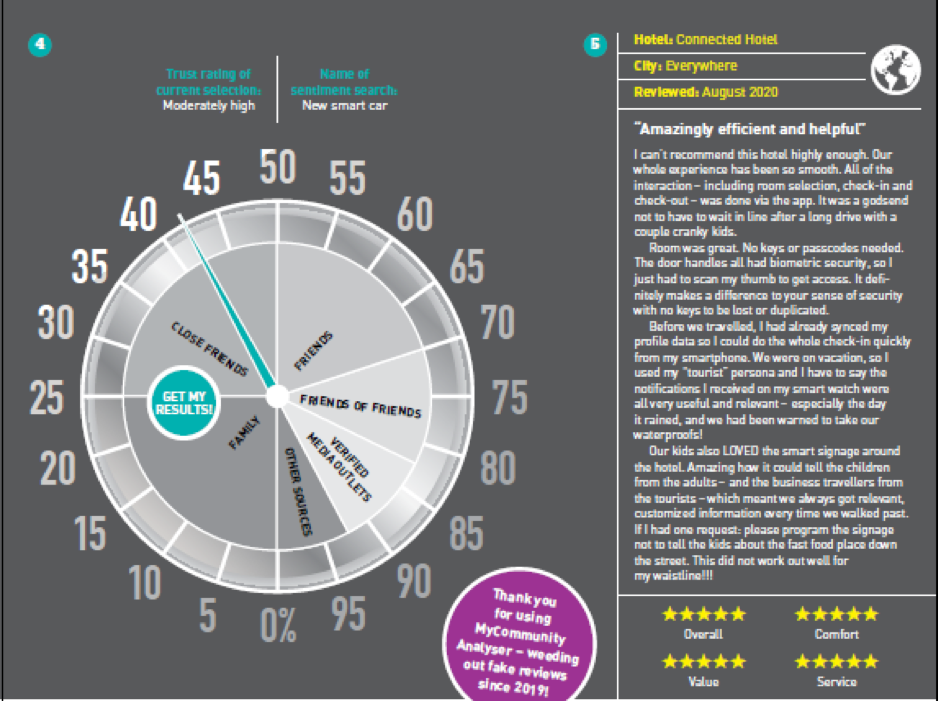 Santi Ristol is General Manager of Tempos 21, a subsidiary company of Atos specialized in mobile solutions.
This article is an extract from "ascent - Views from our digital future" – a thought leadership publication by Atos - http://ascent.atos.net/
Santi Ristol is General Manager of Tempos 21 (a subsidiary company of Atos specialized in mobile solutions), member of the Atos Scientific Community and President of INES (Spanish Technology Platform for Software and Services – www.ines.org.es). He has been working in Atos since 1992, he started working in satellite communication projects (from progammer to project manager), then he worked in internet/eBusiness projects (from Project Manager to Operations Manager) and during last ten years he has been focused in R&D Activities (From Area Manager to Business Development Manager in Atos Research and Innovation). Since 2010 he leads Tempos 21 and is the responsible of the Atos Smart Mobility Global Key Offering in Spain. Santi is Telecom Engineer from the Universit at Politècnica de Catalunya and holds a Master in eCommerce by La Salle – Universitat Ramon Llull in Barcelona.