HSL Constructor
A Union of Denominations on Common Concern
Press Release •
May 24, 2014

&nbsp

19:00

&nbsp

+08
Singaporean corporate focuses Forum from different lenses

Different hats, common voice.

Singapore, 24 May 2014 – Environmental degradation and climate change is the consequence of mankind's failure to properly care for nature. Faith communities play a crucial role in influencing behavioural change at every level and sector of society.
As part of the people's and private sector's efforts to inspire the current generation to provide the next generation with a habitable environment and sustainable future, Singaporean marine civil engineering firm, HSL Constructor, presented a Forum on 'Summoning the Spirit on Ecological Concerns'. Three eminent and regionally known faith leaders – Bishop Terry Kee, Imam Habib Hassan al-Attas and Venerable Master Chin Kung - shared and enlightened the 300-strong audience on how Christianity, Islam and Buddhism propagate care and love for the environment.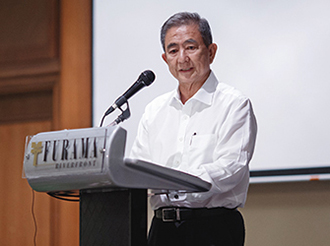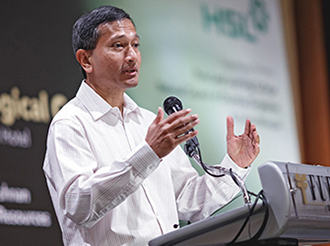 (left) HSL Chairman and co-founder Mr Lim Choo Leng welcoming the guests at the start of the Forum.
(right) Guest-of-Honour Minister Dr Vivian Balakrishnan delivering the keynote address emphasising on how religion and the environment share a connection in their teachings of different faiths, and on the existing role of faith communities in caring for the environment.
In his welcome note, HSL's Chairman and co-founder, Mr Lim Choo Leng shared, "The subliminal spirit and power of humanity brings and binds aspirations to help uphold human dignity and our sustained and safe existence. Religion is a key motivating factor. The commonality amongst all religions is the inherent sacrificial effort to serve one another and to demonstrate acts of kindness to all creations".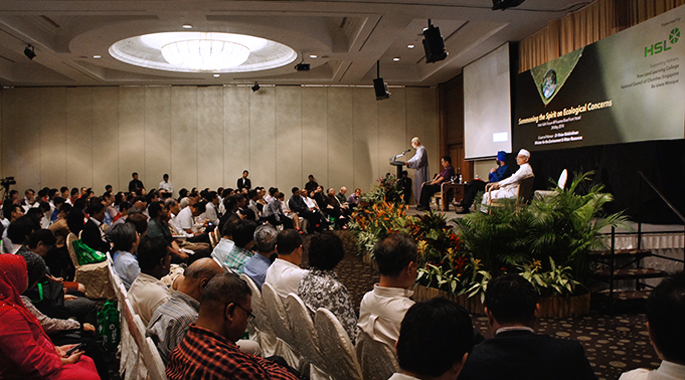 Panelists of the forum (from left) Venerable Master Chin Kung, founder of the Corporate Body of the Buddha Educational Foundation; Bishop Terry Kee, President of National Council of Churches Singapore; the moderator Mr Satwant Singh, Barrister-at-Law, Satwant and Associates; and Imam Habib Hassan al-Attas, Chairman and Imam of the Ba'alwi Mosque in Singapore.
The Forum was held at the Furama Riverfront Hotel, and was graced by the Minister for Environment & Water Resources, Dr Vivian Balakrishnan, who delivered the keynote address. Diplomatic dignitaries from various embassies also joined the unprecedented event.
The moderator at the Forum, Mr Satwant Singh, commended HSL for having taken the worthy and innovative step to stage an interfaith forum to convey and convince on the need for a concerted custody of the environment.
Mr Lim added, "Incidentally, this gathering of leaders and representatives from the various faiths, corporate and civic groups, and individuals, would have helped us better understand each other's beliefs, representing another step forward towards interfaith appreciation and harmony". With regional operations which included projects in Indonesia, Myanmar and Malaysia, HSL became the first Singaporean business here to be awarded the ISO50001 certification in 2012. This is one of HSL's efforts to improve its energy efficiency, costs-saving and significantly minimise the impact of its operations on the environment, as part of the company's social responsibility.
Recognised as a regional leader in the marine civil engineering sector, HSL was founded in the mid-1990s and has since grown rapidly, driven by a relentless passion for innovation and excellence. Helmed by visionary leaders and run by a cohesive team of professionals, not only has HSL taken root as a top marine civil engineering enterprise, but it has also established strong footholds in related disciplines such as plant construction and ground engineering. Growing in depth, scope and geographical reach, HSL continues to lead by blazing new trails across regional markets, winning ground with its hallmarks of finesse, quality, innovation and cost effectiveness.