Bernard Lee
Brand Finance values the Olympics brand at USD $47.6 billion
Press Release •
Jul 25, 2012

&nbsp

13:37

&nbsp

+08
Singapore, 25 July 2012 – Brand Finance values the Olympics brand at USD$47.6billion, an 87% increase since the Beijing Olympic Games in 2008 (where it was valued at USD $25.4billion), according to a new study launched by Brand Finance.
The Olympics brand is the 2nd most valuable brand in the world and beaten only by Apple valued at USD $70.6 billion. It is a brand worth more than all of its major sponsors including Samsung, GE and Coca-Cola.
Samir Dixit, Managing Director of Brand Finance Singapore, commented on the latest findings stated, "There is absolutely no doubt about the global popularity of the Olympics brand and how it benefits the brands that associate themselves as a sponsor to the event - Visa, Panasonic, McDonalds, Acer etc. to name a few.  What is however not often talked about is the incremental value that a host country is able to contribute towards the future value generation capability of the Olympic brand. Since Beijing games in 2008, the Olympic brand has had a total revenue growth US$ 5.1 bn, a 38% increase which is the highest in recent times. The projected increase in value after London Olympics drops significantly to 18%. China therefore deserves equal credit for enhancing the value of the Olympic 'Brand' by driving every aspect of the Olympics, be it  the management, the glitz & glamour, the showcasing, the popularity, the intrigue and expectation  all to a much higher level by setting new benchmarks and standards in managing global events of the scale of Olympics."
It was reviewed that the IOC has running costs of less than 10% of revenue leaving USD $4.6 billion for distribution and investment in sports worldwide.
The brand value was calculated and derived from the International Olympic Committee's (IOC's) financial statements, which include everything operating under the Olympics brand, from broadcasting, sponsorship, licensing, merchandising and ticket sales. Costs associated with running the brand are minimal leaving vast sums to be invested back into sports.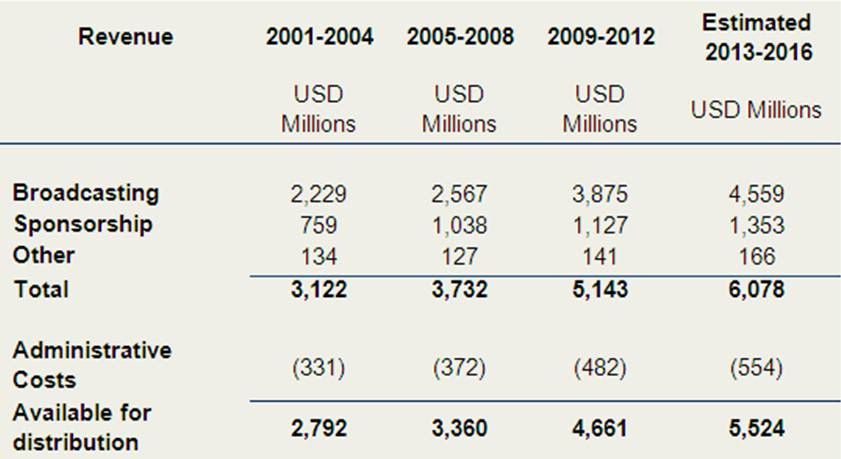 The Olympics brand has seen a huge surge in value since the Beijing Games in 2008. This four year period has seen:
Total revenue growth of 38% to USD $5.1 billion
Broadcasting revenue growth of 51% to USD $3.9 billion
Sponsorship revenue growth of only 10.5% perhaps reflecting tough trading conditions in the worldwide recession
Broadcasting contributes two-thirds of the IOC's revenue.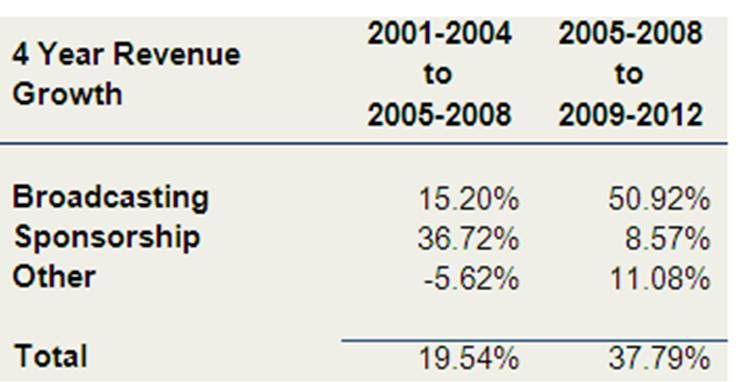 The high levels of growth achieved by the Olympics should be sustainable as emerging markets remain largely untapped. Currently Asia accounts for only 12% of broadcasting revenues which compared to the Americas (59%) demonstrates a key area of potential growth for the Olympic brand.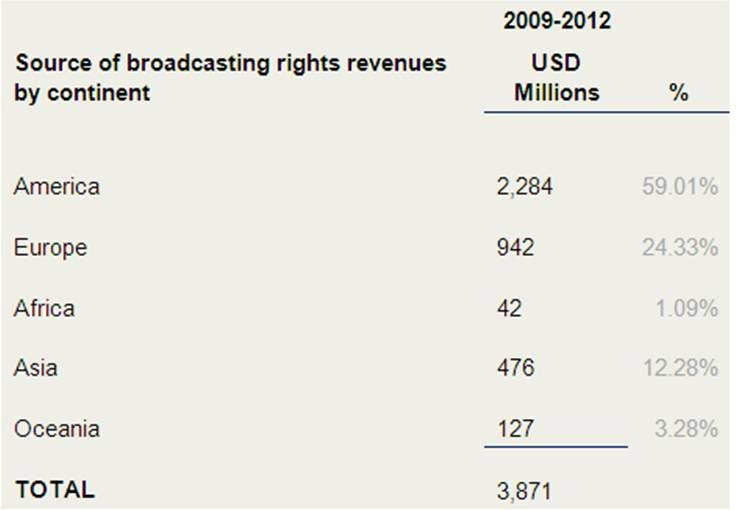 Sponsors also believe Olympic sponsorship to be a sustainable marketing investment. P&G expect to generate an extra USD $500 million in sales from London 2012, having already generated USD $100 million from Vancouver 2010. GE, who reportedly paid USD $200 million for TOP sponsorship rights covering London & Vancouver, already believe it has earned back its investment. GE uses its Olympic links to win big contracts in the host nations, particularly in developing nations such as China (after Beijing 2008) and the upcoming Winter games in Sochi, Russia for 2014.
Contact Details:
Samir Dixit, Managing Director, Brand Finance Singapore
Email: s.dixit@brandfinance.com
T:  +65 90698651 (Singapore)
Bernard Lee, Senior Manager, Brand Finance Singapore
Email: b.lee@brandfinance.com
T: +65 6408 0694
Brand Finance is the world's leading brand valuation and strategy consulting firm. We advise strongly branded organisations on how to maximise their value through the effective management of their brands and intangible assets. Founded in 1996, Brand Finance has performed thousands of branded business, brand and intangible asset valuations worth trillions of dollars.
For more information, please see www.brandfinance.com.