Toyota Global
TMC Launches 'Aqua' in Japan
Press Release •
Dec 26, 2011

&nbsp

14:27

&nbsp

+08
Compact Hybrid Combines Driving Enjoyment with World-Leading Fuel Efficiency
Toyota City, Japan, December 26, 2011—Toyota Motor Corporation (TMC) announces the launch in Japan today of the "Aqua"*1 gasoline-electric compact hybrid.


Aqua S (with options)

The Aqua combines a comfortable and roomy interior with a stylish body, and displays exciting acceleration and agility.

The Aqua incorporates 17 years of Toyota expertise and technology in the development of mass-produced hybrid vehicles, and boasts a small, light and efficient hybrid system that achieves a world-leading*2 fuel efficiency of 35.4 km/L under the Japanese Ministry of Land, Infrastructure, Transport and Tourism's (MLIT's) JC08 test cycle and 40.0 km/L*3 under the MLIT 10-15 test cycle.

With a starting price of 1.69 million yen, the Aqua offers the pleasure of hybrid vehicles to an even broader range of consumers in Japan.

Monthly sales target for Japan: 12,000 units

Assembly Plant: Iwate Plant, Kanto Auto Works, Ltd.

Manufacturer's Suggested Retail Prices


Vehicle Outline

Exceptional Fuel Efficiency

The Aqua features a state-of-the-art, small, light and efficient 1.5-liter Toyota Hybrid System II (THS II) with reduction gear, which achieves a fuel efficiency of 35.4 km/L in the JC08 test cycle and 40.0 km/L in the MLIT 10-15 test cycle.

A cooled Exhaust-Gas Recirculation (EGR) system improves efficiency in the high-expansion-ratio Atkinson cycle engine.  Also contributing to increased engine efficiency is a battery-powered water pump, a friction-reducing beltless design and precise coolant-water-flow volume control.

The hybrid transaxle, which includes the power control unit, the power-generation motor and drive motor, has also been designed to be small and light.

A selectable electric-vehicle mode (EV Mode) enables driving with only the electric motor.

Key Hybrid System Specifications
Design Combines Elements of Fun and Sophistication

The Aqua's active and fun styling provides outstanding aerodynamic performance with a comfortable interior in a compact body.

Exterior
The exterior offers a bold and modern design with a powerful and refined front mask and a rear silhouette that evokes imagery of brisk yet stable driving performance.

The vehicle comes in ten vibrant and stylish body colors, including new Citrus Orange Mica Metallic and Lime White Pearl Crystal Shine.

Interior
The instrument panel structure evokes a great sense of space, while the modern and geometric layout with color-coded, switch-operated areas reflect the pursuit of enjoyment and user-friendliness.

Distinctive and effective accent color placement contributes to a brighter interior and is available in four patterns: Earth Brown, Fresh Green, Cool Blue, and Natural Gray.

Front and rear seats with ample head clearance and legroom provide excellent comfort.

The hybrid battery has been sized for placement under the rear seat, resulting in a spacious cargo area of 305 liters*4.

Exhilarating Performance for Enhanced Driving Pleasure

In addition to a long 2,550 mm wheelbase, the hybrid unit and engine are positioned to create a low center of gravity for superior maneuvering performance.

Engine and motor power combine to provide smooth acceleration from standstill to 100 km/h in 10.7 seconds and also at mid-range speeds, such as from 40 km/h to 70 km/h in 3.6 seconds (all measurements according to TMC).

With a minimum turning radius of 4.8 meters, the Aqua also boasts excellent maneuverability.


Fun and Easy-to-use Hybrid

The instrument panel sports a myriad of functions that support environment-conscious and enjoyable driving.  The Hybrid System Indicator offers easy-to-understand information concerning eco-driving, such as effective accelerator use.  In addition to the standard display, an optional high-resolution thin-film-transistor liquid crystal multi-information display provides a variety of eco-driving information.  Eco Judge ranks eco-driving on a 100-point scale, and Eco Wallet shows money saved as compared with other levels of fuel efficiency.


High-level Safety and Comfort-Enhancing Features

ABS with Electronic Brake-force Distribution (EBD) maximizes braking performance, with the EBD appropriately distributing braking force between the front and rear wheels according to driving conditions.  Also, a brake assist function generates extra braking force to assist the driver in emergency braking situations.

Vehicle Stability Control controls brake and engine output to maintain vehicle stability if skidding occurs.  Traction Control controls wheel spin to simplify acceleration operation.

Hill-start Assist Control reduces anxiety about the vehicle rolling backwards when starting on a steep incline.

Automatic air conditioning comes standard on all models and is equipped with an electric inverter compressor run by the electric motor, enabling a comfortably air-conditioned interior even when the engine is off.

In addition to seat heaters, the exhaust heat recirculation system draws heat from the engine directly into the cooling water, enhancing heating performance and fuel efficiency in the winter.


Diverse Range of Packages Meet a Range of Needs

The Aqua is available in seven different packages.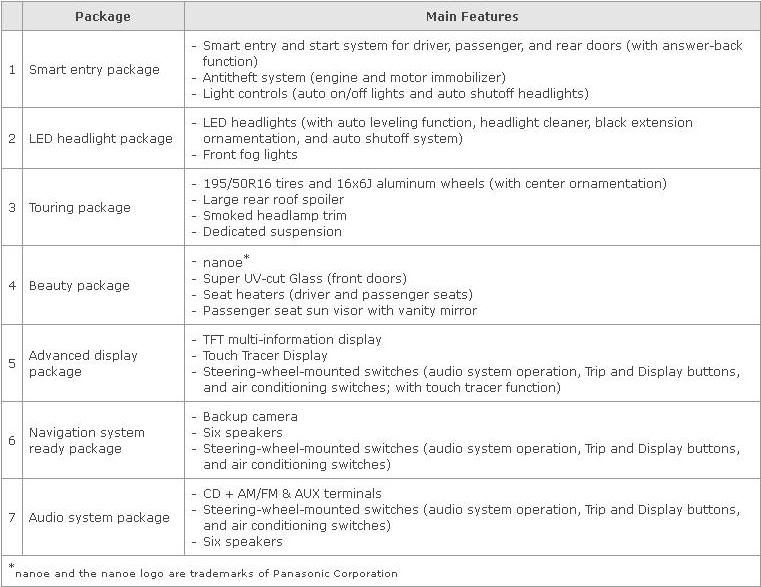 Welcabs: Vehicles with Factory-installed Features for The Disabled

The Rotating Passenger Seat model features a passenger seat that rotates to facilitate smooth ingress and egress.  The Type B model features an electric loading/unloading mechanism for manual wheelchairs.

Welcab Friendmatic Seat models allow for the installation of devices such as a specialized driver's seat, to help people without use of their legs drive with only their hands (scheduled for release in March 2012).  Special-purpose power steering that reduces the force necessary to turn the steering wheel comes standard, helping to ease steering during initial acceleration and low-speed driving.

The Friendmatic-exclusive remote-controlled power driver's seat available on Types II and IV, aids movement to and from a wheelchair.  Types III and IV include the Welcarry device, which automatically stows a wheelchair on the vehicle's roof.


Manufacturer's Suggested Welcab Retail Prices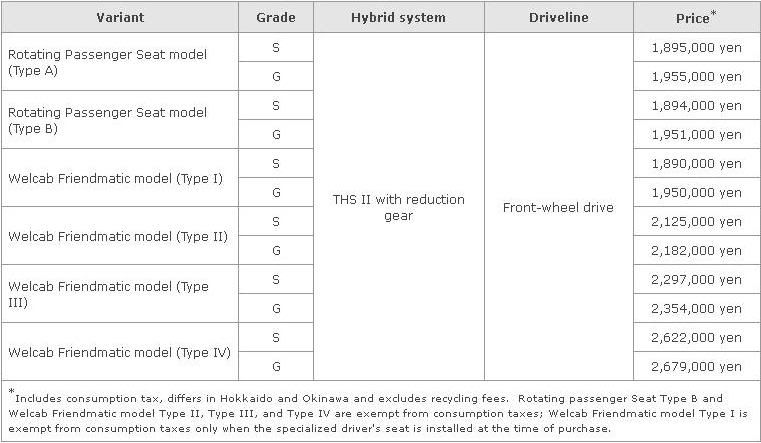 *1Derived from the Latin word meaning water.  The name is meant to evoke an image of clean transparency as well as of something that is universally cherished.  Also, the Aqua is meant to break the conventional image of hybrid vehicles, becoming something fluid and not constrained to any one shape or role—like free-flowing water.  With this image, it is hoped that even more people will choose to experience the joys of hybrid vehicle ownership.
*2Compared to mass-produced gasoline passenger cars (excluding plug-in hybrid vehicles).  As of November 30, 2011, according to TMC.
*3G and S grades are 37.0 km/L.
*4Storage up to the top of the rear seat back calculated by TMC using the VDA method.