Yokohama Thermal Power Plant to Commence Operation with its First Retrofitted Shaft
Press Release •
Aug 06, 2015

&nbsp

02:28

&nbsp

GMT
TOKYO— Toshiba Corporation has demonstrated that it can extend useful operating life and significantly increase the efficiency of thermal power plants by retrofitting and completing commissioning testing of a new drive shaft in a combined-cycle power plant. The shaft, Shaft 2 of Unit 7, is the first of eight 350MW shafts that Toshiba will retrofit at Tokyo Electric Power Company's (TEPCO) Yokohama Thermal Power Plant, in Units 7 and 8. The project, Toshiba largest retrofitting program yet in Japan, is scheduled for completion by January 2018.
Yokohama Thermal Power Plant, in Units 7 and 8 was commissioned almost 20 years ago, in 1998. TEPCO wants to extend its life and capacity, and awarded Toshiba a contract to retrofit gas turbines, high- and medium-pressure steam turbines and control systems. The scope of the contract encompasses system design, installation and commissioning tests.
While reusing existing equipment as much as possible, Toshiba has combined high-efficiency high- and medium-pressure steam turbines specifically designed for the Yokohama Thermal Power Plant with the General Electric (GE) 9F gas turbine, in order to achieve optimal system efficiency. On retrofitting project will increase the thermal efficiency 1.7%*1 , provide higher output*2 and contribute to easing Japan's tight power supply in summer.
A combined-cycle power plant can generate more electricity than a standard thermal power plant with the same level of fuel. Since the 1990s, dozens of combined-cycle plants have been constructed in Japan, and many of them have now been in operation for over 20 years. Demand for retrofitting is expected to increase so as to improve their efficiency.
Toshiba will utilize highly reliable equipment to optimize system designs in order to improve overall efficiency and thereby expand its thermal power generation business.
*1 Reduction of CO2 emissions due to improved thermal efficiency of Units 7 and 8 is estimated to be equivalent to approximately 10% of the CO2 absorbed by forests in Tokyo (Toshiba estimate).
*2 The combined-cycle output is increased from 350MW to 377MW per shaft.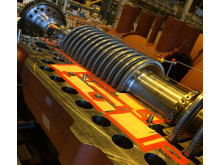 Steam Turbine
About Toshiba
Toshiba Corporation, a Fortune Global 500 company, channels world-class capabilities in advanced electronic and electrical product and systems into five strategic business domains: Energy & Infrastructure, Community Solutions, Healthcare Systems & Services, Electronic Devices & Components, and Lifestyles Products & Services. Guided by the principles of The Basic Commitment of the Toshiba Group, "Committed to People, Committed to the Future", Toshiba promotes global operations towards securing "Growth Through Creativity and Innovation", and is contributing to the achievement of a world in which people everywhere live in safe, secure and comfortable society.
Founded in Tokyo in 1875, today's Toshiba is at the heart of a global network of over 590 consolidated companies employing over 200,000 people worldwide, with annual sales surpassing 6.5 trillion yen (US$63 billion).
To find out more about Toshiba, visit www.toshiba.co.jp/index.htm
129M1508061