Mobile Fun
C.E.O Style Protection for your iPad 3
Press Release •
Apr 03, 2012

&nbsp

13:50

&nbsp

BST
The iPad 3 is Apple's newest and most state of the art tablet device, offering quad-core graphics and speeds to rival any other gadget out there.  A device of such high quality deserves only the best protection: enter the Marware C.E.O Hybrid case.
Offering complete protection to your iPad, the Marware C.E.O Hybrid case is C.E.O by name and C.E.O by nature, making it the boss of all iPad 3 accessories available.  The case has an ultra-slim profile and is highly multi-functional, converting into a multi-angle stand and having an elastic hand strap for extra grip.
Adding no more than a couple of millimetres in thickness to your iPad 3, the Marware iPad 3 cover has a perfectly slim profile and protects your iPad from day to day bumps, drops and scratches.  The case is professional enough for business use yet sleek enough for social giving you the best of both worlds and meaning that you don't have to frequently change cases.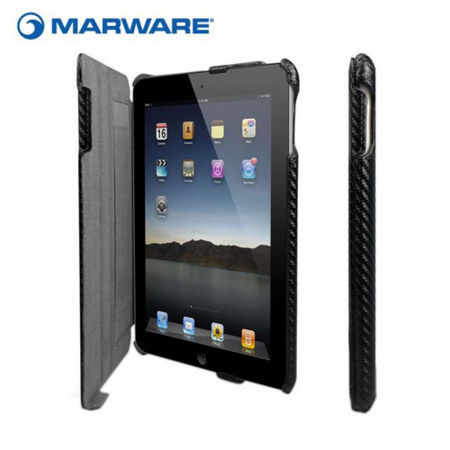 Sporting a rugged padded exterior and an injection moulded interior this case also protects against shock and impacts.  The interior of the case also sports a suede-like lining so that the display of your iPad is protected against scratches, with the interior acting like a cleaning cloth.  However an iPad 3 screen protector is suggested for the ultimate display protection. 
One of the cool features of this iPad case is that it has an interior hand strap so that you can securely hold your iPad with one hand and use it in comfort whilst on the go.  If using your iPad whilst sitting is more your style then the multi-angle lid of the iPad case can be used as a stand.  This stand can dock your iPad in a number of positions and angles, perfect for if you're playing games, editing work or streaming media.
Made specifically for the iPad 3, the Marware C.E.O Hybrid offers the perfect fit for your iPad allowing you to access all the ports and features of your iPad including the charging port.  This means your iPad 3 remains fully functioning at all times.
The Marware C.E.O Hybrid is available now from Mobile Fun as part of their iPad 3 accessories range.
-ENDS- 
Birmingham based MobileFun.co.uk is the UK's leading internet retailer for "everything first"; offering a range of mobile phones, mobile phone accessories, ringtones and mobile java games. 

Mobile Fun has offices in the UK, Germany and France and delivers products to over 50 countries worldwide. 

Mobile Fun won the title of Online Retailer of the Year at the Mobile News Awards 2011 and was ranked 6th in the Experian Hitwise Top 10 websites of 2010.