Easyart UK
Easyart Is Home to the UK's Largest Collection of LS Lowry Prints Available Online
Press Release •
Aug 02, 2013

&nbsp

16:25

&nbsp

BST
With the retrospective of LS Lowry now showing at Tate Britain, Easyart is delighted to offer a new collection of paintings and drawings published in partnership with The Lowry in Salford. This latest addition brings the total number of Lowry prints available at Easyart to 110 – the largest collection currently available online.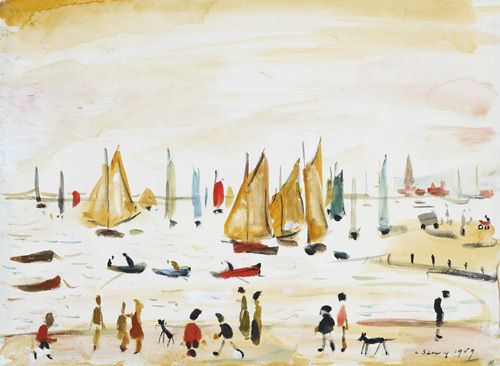 Yachts,1959
LS Lowry is arguably one of the most popular British painters of the 20th Century. Famed for capturing classic industrial scenes, Lowry's distinctive style is widely recognised and celebrated. Lowry said of his work: 'I saw the industrial scene and I was affected by it. I tried to paint it all the time. I tried to paint the industrial scene as best I could. It wasn't easy.'
The Lowry in Salford holds the biggest public collection of this modern artist's work. With the addition of 36 prints published from this range, Easyart is proud to offer the largest collection of Lowry prints available online in the UK. With 110 works spanning the length of his career, the collection at Easyart showcases Lowry's landscapes, seascapes, industrial scenes and portraits.
The introduction of prints from The Lowry in Salford gives a great new offering to Lowry fans, explains Easyart's Head of Business Development, Ian Barham: 'Lowry is one of the most-loved British artists of our time, so we are delighted to offer the largest collection of his work available online. We hope that all Lowry fans will find in this range a print which they love and can hang in their homes to admire every day.'
Each piece is available as an art print, on canvas or as customisable framed art, hand-made by UK based Easyart craftsmen. Browse the full collection of Lowry prints here.
- Ends -
For more information, samples or images contact Sabrina Hamilton on
sabrina.hamilton@easyart.com or 020 3176 5516
Easyart started out 25 years ago in a basement in Brighton to help people discover great prints at affordable prices. The founders wanted to use their passion and expertise to make art available for everyone, everywhere, every day whether new works or much –loved classics. Today Easyart works closely with leading museums, galleries, organisations and artists and are constantly searching for fresh talent. The team is still based in Sussex and still just as passionate about how they print, hand-frame and deliver art with pride, craftsmanship and care.
Easyart is a proud partner of Art Everywhere, a charitable project which aims to put on the world's largest outdoor exhibition this August. Read more about the project here.