Easyart UK
Easyart is Proud To Support Art Everywhere Through The Print Sales of British Masterpieces
Press Release •
Jul 04, 2013

&nbsp

15:06

&nbsp

BST
Art Everywhere is putting on the world's largest exhibition. For two weeks this August, British Masterpieces selected by the public from UK public collections will transform poster sites and billboards nationwide. When founder, Richard Reed of Innocent Drinks fame contacted Easyart to see if they would be willing to get involved, they jumped at the chance. Easyart will be donating the profits from the sale of each Art Everywhere souvenir print to help finance the project and get more art onto the streets.
Easyart started out 25 years ago with the aim of making art available for everyone, every day and supporting museums and artists in the process. On hearing about the project Easyart's Managing Director, Marc Lickfett felt that Art Everywhere was built from the very same foundations. He said: "What Art Everywhere is doing on that massive scale is really an art lovers dream and we were immediately eager to take part. As a producer for most of the UK's major museums we are perfectly set up to support the project. Donating our profit on sales of the images as well as volunteering staff to support the project was really a no brainer."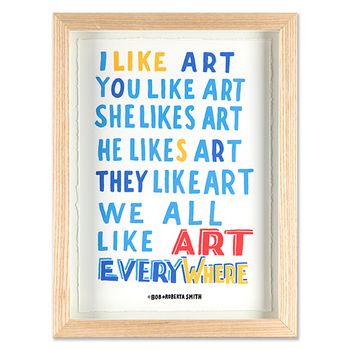 Easyart produce one of the popular rewards for public donations – a framed print by British artist Bob and Roberta Smith.
As well as putting on a very big art show, the team at Art Everywhere are also keen for the British public to reconnect and fall in love with art again. Richard Reed said: "When we started the project, we knew we wanted to team up with a retailer to offer people the chance to own the prints they'll be seeing every day. If you've fallen in love with the art at your train station there is no reason why that connection should end after two weeks. Partnering with Easyart offers us an unparalleled opportunity to raise much needed money for the project."
From mid July to late August, many of the artworks chosen to be part of Art Everywhere will be on sale at Easyart as customisable wall art. The pieces can be bought as prints, on canvas, or as hand-framed art created by UK based Easyart craftsmen. Easyart will be donating the profits of every sale to Art Everywhere to help fund the printing of the posters that will appear all over the UK.
"Here at the Art Fund we have a great working relationship with Easyart. The team at Easyart share the values that we hold dear – supporting museums and getting great artworks into the public domain for everyone to enjoy. We were delighted to find out that they were on board and were going to help raise more funds for the charity." Stephen Deucher, Director of Art Fund.
Easyart will be selling Art Everywhere art prints from a dedicated section of their site. Full details to be announced shortly.
Easyart started out 25 years ago in a basement in Brighton to help people discover great prints at affordable prices. The founders wanted to use their passion and expertise to make art available for everyone, every day, everywhere, whether new works or much-loved classics. Today Easyart works closely with leading museums, galleries, organisations and artists and are constantly searching for fresh talent. The team is still based in Sussex and still just as passionate about how they print, hand-frame and deliver art with pride, craftsmanship and care.
Easyart is a proud partner in Art Everywhere, a charitable organization which aims to put on the world's largest outdoor exhibition this August. Read more about the project here.