Mobile Fun
Get the best of both worlds with the Tuff-Luv Scribe Folio, available at Mobile Fun
Press release •
Mar 20, 2012

&nbsp

12:19

&nbsp

GMT
Handmade from an elegant faux leather material, the Tuff-Luv Scribe Folio Case for iPad 3 houses your iPad on one side and an A5 paper notepad in the other - it's the perfect combination for those who work on their iPad and is available now from Mobile Fun.
Highly professional looking, this iPad 3 case lets you work on your iPad whilst on the go, but the added notepad means you can jot down any moments of genius you may have to do with your work.  It's the ultimate companion for those who frequently travel and work whilst travelling.  Alternatively you could just use the notepad to write your shopping list on or secretly practice your drawing skills.
Offering complete protection to your new iPad, the Scribe Folio protects your iPad from day to day bumps, drops, scrapes and scratches whilst looking professional and business like at the same time.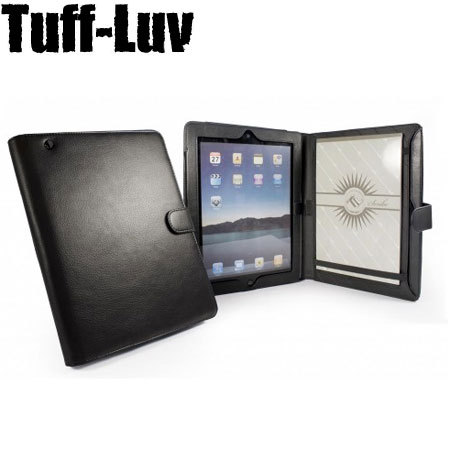 The Scribe Folio also features a pull-out slot in which you can store documents, SD cards and business cards, making this one of the most multi-functional iPad 3 cover styles available.
Helping to preserve the battery life of your new iPad, the Scribe Folio includes Tuff-Luv's unique Stasis feature which automatically puts your iPad to sleep when the case is shut.  When you open the case your iPad wakes up so it's ready to use instantly, as you left it before.
The Tuff-Luv iPad case allows you to access all the features of your iPad including the front and rear cameras, so your iPad remains fully functioning at all times.
Available now from Mobile Fun as part of their iPad cover range, the Tuff-Luv Scribe Folio case costs £39.95.
-ENDS-
Birmingham based MobileFun.co.uk is the UK's leading internet retailer for "everything first"; offering a range of mobile phones, mobile phone accessories, ringtones and mobile java games. 

Mobile Fun has offices in the UK, Germany and France and delivers products to over 50 countries worldwide. 

Mobile Fun won the title of Online Retailer of the Year at the Mobile News Awards 2011 and was ranked 6th in the Experian Hitwise Top 10 websites of 2010.