Easyart UK
Penguin Book Cover Wall Decor at Easyart
Press Release •
Jul 17, 2013

&nbsp

11:45

&nbsp

BST
Easyart is proud to announce a collaboration with Penguin Books to transform a selection of their renowned vintage tri-band book covers into inspiring, customisable wall art.
When Penguin Books launched in 1935, each paperback carried the simple yet bold colour coded tri-band design created by Edward Young. These iconic book covers are now a celebrated part of British design culture and are loved almost as much as the literature they bind.
For the first time, these noted book covers will be available from Easyart as a new and exciting range of wall art. The collection features original tri-band designs alongside a photographic selection of delicately aged vintage Penguin jackets. With a range of sizes to choose from, the designs will be offered on canvas, as paper prints, and as framed wall art all hand made in the UK by Easyart's expert craftsmen.
Easyart is also proud to offer a collection of modern covers of Penguin titles such as Jane Eyre, which have never been available as wall art before. The Penguin English Library series, launched in 2012, brings together the best of publishing and brilliant design. These charming pieces of art by award-winning Coralie Bickford-Smith are each inspired by the books they cover and provide a fresh take on some well-loved classics.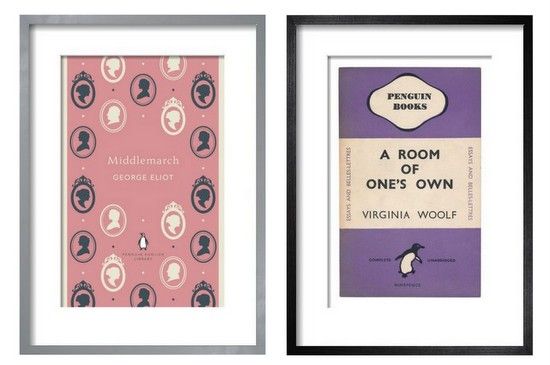 'We've all got a classic Penguin title that we adore. With this exciting collection you can celebrate your favourite title or author with a beautiful piece of art for your home' Ian Barham, Head of Business Development, Easyart

The Easyart collection has over 70 cover prints from a range of genres with their corresponding tri-band colours including crime green, fiction orange, and biography blue. Pieces from this collection will make fantastic personal purchases or gifts for both men and women.
See the full range of Penguin Book cover wall art at Easyart
The Penguin Collection is produced by Easyart with the kind permission of Penguin.
Prices start from £19.95
- Ends -
About Easyart
Easyart started out 25 years ago in a basement in Brighton to help people discover great prints at affordable prices. The founders wanted to use their passion and expertise to make art available for everyone, every day, everywhere, whether new works or much-loved classics. Today Easyart works closely with leading museums, galleries, organisations and artists and are constantly searching for fresh talent. The team is still based in Sussex and still just as passionate about how they print, hand-frame and deliver art with pride, craftsmanship and care.
Easyart is a proud partner in Art Everywhere, a charitable project which aims to put on the world's largest outdoor exhibition this August. Read more about the project here.