Mobile Fun
Samsung Galaxy Note Sim Free arrives at Mobile Fun
Press Release •
Nov 03, 2011

&nbsp

15:12

&nbsp

GMT
Mobile Fun is pleased to announce that they have received stock of the immense dual core, 5.3" Super AMOLED screened phone, the Samsung Galaxy Note Sim Free.  The handset has been hotly anticipated by fans of handsets and tablets alike and is available to buy from today for £599.95.
The main feature which makes the Samsung Galaxy Note sim free stand apart from other handsets is that it can be seen to be the perfect combination of a handset and a table, due to it's huge amount of power and size.
Housing a 5.3″ Super AMOLED screen, the Galaxy Note produces bright and extremely clear images.  This means viewing media and completing work on the handset, with its HD capabilities is like a dream.  The impressive display makes the handset a pleasure to work with.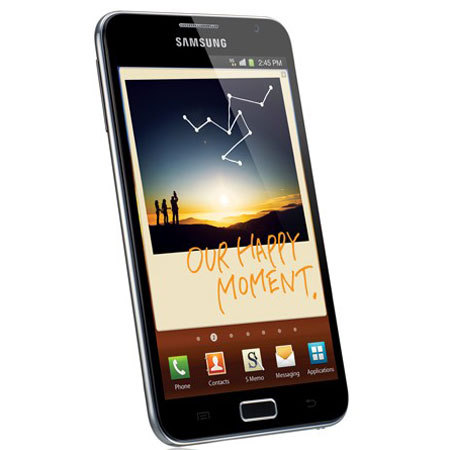 Making full use of the immense display size on the unlocked Samsung Galaxy Note is the rear 8MP camera, which produces high quality images, made even more visually stunning by the super AMOLED display they are viewed on.  The handset also has a 2MP front facing camera which is perfect for video calls.
Unbelievably, the Sim Free Samsung Galaxy Note is only 9.65mm thick and weighs just 178g, making it one of the lightest and slimmest handsets available.  This is surprising for a handset which houses a massive 1.4GHz processor.  The powerful processor allows you to run multiple programmes easily and makes multitasking possible.  The Galaxy Note could stream media, send messages and run apps without even breaking a sweat.
Another great feature of the Galaxy Note comes in the form of the built-in stylus.  This stylus helps you to perform functions on the handset quicker and more accurately, it also prevents your display from being littered with fingerprints.  When the stylus isn't in use, it sits flush with the Galaxy Note keeping with the style and slim look of the handset.
The Samsung Galaxy Note is available from Mobile Fun now, costing £599.95, along with a large iPhone cases range.
-ENDS-
Birmingham based MobileFun.co.uk is the UK's leading internet retailer for "everything mobile"; offering a range of mobile phones, mobile phone accessories, ringtones and mobile java games. 

Mobile Fun has offices in the UK, Germany and France and delivers products to over 50 countries worldwide. 

Mobile Fun won the title of Online Retailer of the Year at the Mobile News Awards 2011 and was ranked 6th in the Experian Hitwise Top 10 websites of 2010.