Mobile Fun
Turn your iPhone into a work of fiction with the BookBook case
Press release •
Mar 14, 2012

&nbsp

11:49

&nbsp

GMT
Now available for £5 off its usual price, the Twelve South BookBook iPhone 4 and 4S case offers stylish and hard wearing protection, all whilst disguising your iPhone as a vintage work of fiction.  It's the all in one companion for your iPhone, available from Mobile Fun.
Designed from gorgeous high quality leather, the BookBook case is a wallet, phone case and vintage style book all rolled into one package.  Sturdy and simple in its design, the BookBook case adds character to your iPhone and is the perfect accessory for when popping to the shops.
Storing your iPhone on the right, the left of the inside of the BookBook case has three slots to store cards.  The front slot also has a handy ID window meaning that should you ever need to produce your ID, you can do so easily without having to rummage to find it.  This means that you just need the BookBook wallet and your keys when going to the shops, so your bag or pockets are lighter.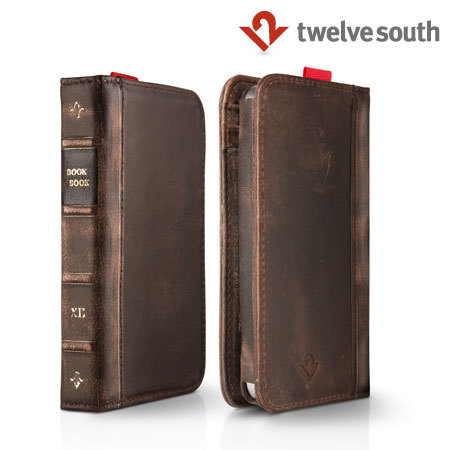 Feeling great to touch, the BookBook protects every angle of your iPhone whilst still allowing access to all the important ports and features, so your iPhone remains fully functioning whilst in the case.  When taking an image or video with your iPhone, simply pull the red tab on the BookBook case and your iPhone will move up a quarter of an inch to expose the lens and capture the moment.
Adding next to no bulk to your iPhone, the BookBook iPhone case lets you charge and sync your iPhone whether the case is opened or closed, so you can protect your display and charge at the same time.  The high quality leather protects your iPhone from day to day damage through bumps, drops, scrapes and scratches.  Combine the BookBook iPhone case with an iPhone screen protector and you have the ultimate in both protection and style.
The BookBook case is available now from Mobile Fun, at the reduced price of £49.95, along with the new LifeProof iPhone 4 case range; the case which aims to protect your iPhone from anything Mother Nature throws at it.
-ENDS-
Birmingham based MobileFun.co.uk is the UK's leading internet retailer for "everything mobile"; offering a range of mobile phones, mobile phone accessories, ringtones and mobile java games. 

Mobile Fun has offices in the UK, Germany and France and delivers products to over 50 countries worldwide. 

Mobile Fun won the title of Online Retailer of the Year at the Mobile News Awards 2011 and was ranked 6th in the Experian Hitwise Top 10 websites of 2010.