Mitie Group Plc and Troup Bywaters + Anders Ltd win National Apprenticeship Award
News •
Jan 23, 2017

&nbsp

16:26

&nbsp

GMT
Mitie Group Plc and Troup Bywaters + Anders Ltd revealed as winners at the National Apprenticeship Awards exclusive ceremony.
Mitie Group Plc and Troup Bywaters + Anders Ltd were both crowned winners at the National Appprenticeship Awards exclusive ceremony at London's Grosvenor House on friday (20 January 2017).
The awards, which have now been running for thirteen years, recognise excellence in two areas: businesses that grow their own talent with apprentices and apprentices who have made a significant contribution to their workplaces.
Mitie is a strategic outsourcing company, employing around 2000 apprentices across 39 different areas of the business, from construction and engineering to catering and landscaping. The company have offered apprenticeships for over 20 years, encouraging its employees to become apprentices, and investing in lifelong learning. They estimate that apprenticeships have saved their business over £2M in the last few years.
Barry Norris, Training and Development Director at Mitie Group Plc, said: "Mitie's commitment to apprenticeships brings numerous benefits to the business, including happier, more self-confident employees, a higher staff retention rate, and over £2M in savings over the past few years.
"Apprenticeships allow us to attract the very best of talent and to keep it, through a focus on upskilling the entire workforce regardless of age or role. As a business, we'll continue to promote apprenticeships as the right thing for our employees and our company."
The ceremony also saw Mitie Group Plc named in the prestigious Top 100 Apprenticeship Employer list.
Building services engineering partnership, Troup Bywaters + Anders Ltd, won Medium Employer of the Year.
The company employ 210 people across 8 UK offices, 20% of which are apprentices. Their scheme, which is now in its 5th successful year, has been successful in recruiting apprentices, with 60% of its workforce made up of young recruits.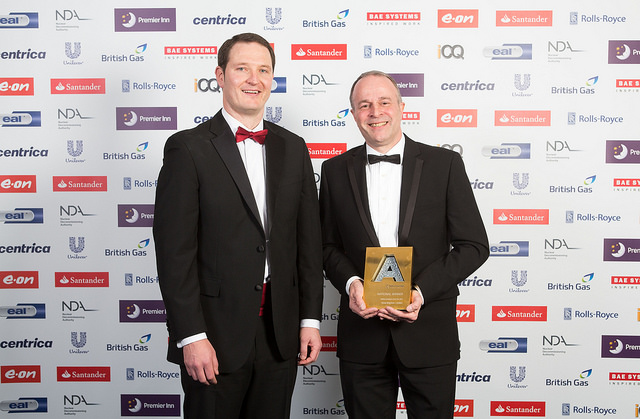 Craig Heaney of British Gas (L) poses with Peter Anderson of Troup Bywaters and Anders wins the The British Gas Award for Medium Employer of the Year.
On accepting the award, Neil Weller, Partner at Troup Bywaters + Anders, said: "There is a real buzz and belief around apprenticeships at TB+A. For Partners at the business introducing apprenticeships was just a natural thing to do. They are a more traditional way of implementing engineering training and senior leaders' believe it is the right way to bring people on and build up their skills, especially as most of us are former apprentices ourselves.
"We see apprentices as our future leaders who can go all the way to run and own our business. If we keep them engaged and they identify with our culture then we will continue to secure our long term future."
The awards are run by the National Apprenticeship Service and hosted by its Director, Sue Husband.
If you would like to read more articles like this then please click here