Bee Easy Visionz
University of Benin Alumni Association - North America 10th Annual Reunion
News •
Aug 06, 2015

&nbsp

12:15

&nbsp

EDT
GRE-E-E-A-A-AT
UNIBEN!
Fasten up your seat belt, let's take a trip from Benin City, Nigeria to Miami, Florida.This year the University of Benin Alumni Association North America celebrated their 10th annual reunion, right here in sunny South Florida at the Doubletree Hotel. Desmond Alufohai, the coordinator of the Miami chapter had the honor to coordinate this extraordinary event.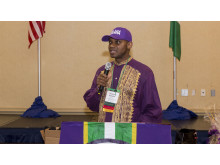 The University of Benin, located in the heart of Nigeria, started as an institute of technology and later turned into a University by the National Universities Commission on July 1st, 1971. The UBAANA'S purpose is to have a continuous and stable network amongst its alumni and students. The Alumni Association formed in 2005 and has been thriving ever since.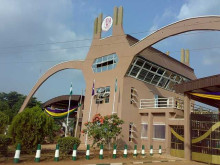 Several committed chapters from the east and west coast and as far as Canada come together to make up the Alumni Association of North America. The mission statement of UBAANA is to build stronger relationships with Uniben graduates who live within the United States.
Jamboree
&
Welcome Dinner
UBAANA'S 10th annual reunion
This year, South Florida had the opportunity to host the UBAANA'S 10th annual reunion. On Friday night, things kicked off with a jamboree and sit down dinner. Everyone enjoyed the live band they danced the night away. Saturday was a day filled with plenty of activities. There was an election that was held, a picnic on the beach, networking forum and later that evening the farewell dinner and gala was held. The weekend wrapped up with a director meeting and handing over ceremony. Next year the torch will be handed over to the Empire State. If you would like to get involved, contact http://www.ubaana.org/
General Assembly
Click Link Below To Watch
All The Videos!
10th Annual Reunion University Of Benin Alumi Association North America (UBAANA)
Enjoy the videos!
For more information on
University of Benin Alumni Association - North America,
CONTACT US - EXECUTIVE COMMITTEE
11th UBAANA Reunion,
Newark, New Jersey countdown
July, 31st, 2016

Venue:
Doubletree by Hilton Hotel,
128 Frontage Road,
Newark, New Jersey 07114,
USA
GRE-E-E-A-A-AT
UNIBEN!
---------------------------------------------------------------------------------------------
Since 2012, Bee Easy Visionz has produced corporate and social event videos for marketing or historical purposes as well as creating press releases and social media announcements of the client's event. In addition, Bee Easy Visionz a is actively expanding in the content development arena for multi-platform distribution. Brandon Akinbiyi is Co-Executive Producer of 10th Annual Reunion.
Capturing the Moment
Before/During And After
Brandon Akinbiyi Bee Easy Visionz
Photographer | Videographer| Film | Events | Sports | Corporate | Documentary | TV Commercial |
Video Editing
Follow Me On
For more information, contact: