creationwatches
Seiko SNK809K1: Absolutely Great When it's The Outdoors
Press Release •
May 13, 2014

&nbsp

02:34

&nbsp

EDT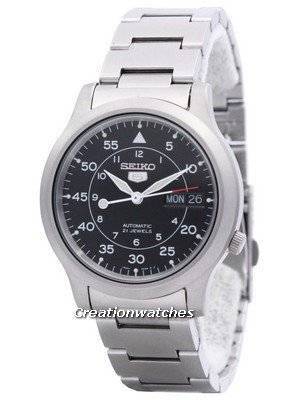 For a good chunk, nothing exists beyond the Seiko 5 philosophy (reliability and versatility), which makes you feel right home under almost every situation. So it's kind of limiting when you say this field watch is just for the outdoors; the SNK809K1 is suited for every unforgiving environment. You can't help but agree that it fits the bill. Its robust built and military style ensures this is a watch meant to be taken to places. Yet, an appropriate piece when all you want is a trouble-free and reliable daily wear which looks different than dress.

Whether you planned your purchase or just buying it on impulse, stay rest assured you'll win big time with this one. The SEIKO technology makes the SNK809 a unique piece on its own merits.

The good thing about the SNK809K1 is despite its rugged built, it is not an E-N-O-R-M-O-U-S piece with an enormous weight; it is of a size and weight that don't get between you and your free movements. Let's say it's just heavy enough to keep announcing its presence every moment.

The Seiko divers watch-face boasts a nice layout with a touch of busyness. It's a slightly glossy version of black and gives more prominence to the slightly raised markings; also to the day and date. Compared to other watches with dark faces and white markings, these index markers are thicker; yet enhances the overall look of the face.

The SNK809K1 runs on an automatic movement that runs smooth and accurate, giving +8 seconds on either side. That's predictable deviation and it makes the Seiko 5 SNK809 a perfect first automatic for anyone venturing into the mechanical world for the first time. And every mechanical collection should have at least one Seiko Chrono watch. This 21-jewel movement is an excellent start; it will get you in the habit of wearing watches the way it should be. Make sure you wear it 8 hours a day during the break-in period and the rest will be breeze.

Now, that might put a few people off but this isn't a watch to be appreciated by all. It's for them to whom an inoffensive, universal design holds more value. Yet, those with smaller wrists shall find it a boon; it is a watch that goes with every attire (except strictly formal) and never looks odd or out of place. Its basic look gels effectively with business casuals and will help you discover your hidden-love for watches you never realized you had.

All in all, an absolutely stripped down, basic automatic watch designed to take as much ramming as more-than-normal daily usage can give. If you plan to buy a higher end automatic in the future, the Seiko 5 SNK809K1 will set you up for the big day.
We are a well-established online retailer of watches with customers from all around the world. Being a trusted dealer of Citizen, Seiko, Casio, Tissot and Polar brands of watches, all our watches are 100% genuine and brand new. We offer incredible prices on designer watches including Seiko Citizen & Casio watches. We are trusted Watch Dealer specializing in 100% new and genuine Citizen, Casio, Seiko, Polar and Tissot watches. Since 2002 CreationWatches.com has been serving customers from around the world with authentic watches. Customer service is our top priority. We ship to all major destinations in the world (US, Australia, Europe).