BLAST Pro Series Miami: Day 1 recap
News •
Apr 13, 2019

&nbsp

00:03

&nbsp

UTC
Round 1 and 2 of BLAST Pro Series Miami are done and the victors of the first day have been found.
Team Liquid and Astralis top the leaderboard going 2-0 in their opening matches.
NAVI goes 1-1.
FaZe Clan and MIBR both take 1 loss and 1 tie.
Cloud9 ends the day on 0-2.
Astralis take the lead
Lukas "gla1ve" Rossander, In-Game Leader, Astralis
- We felt prepared and we had a good talk before our matches today. Everyone knew what to do. zonic has been doing a lot of preparation and we could really feel that in our games today.
- It's going to be fun facing Team Liquid tomorrow. The crowd is probably going to be on their side, but I think we'll have some nice, friendly banter with them. We can't wait.
Remember to check out the lively pictures from Day 1 of BLAST Pro Series Miami here.
Leaderboard
Round 1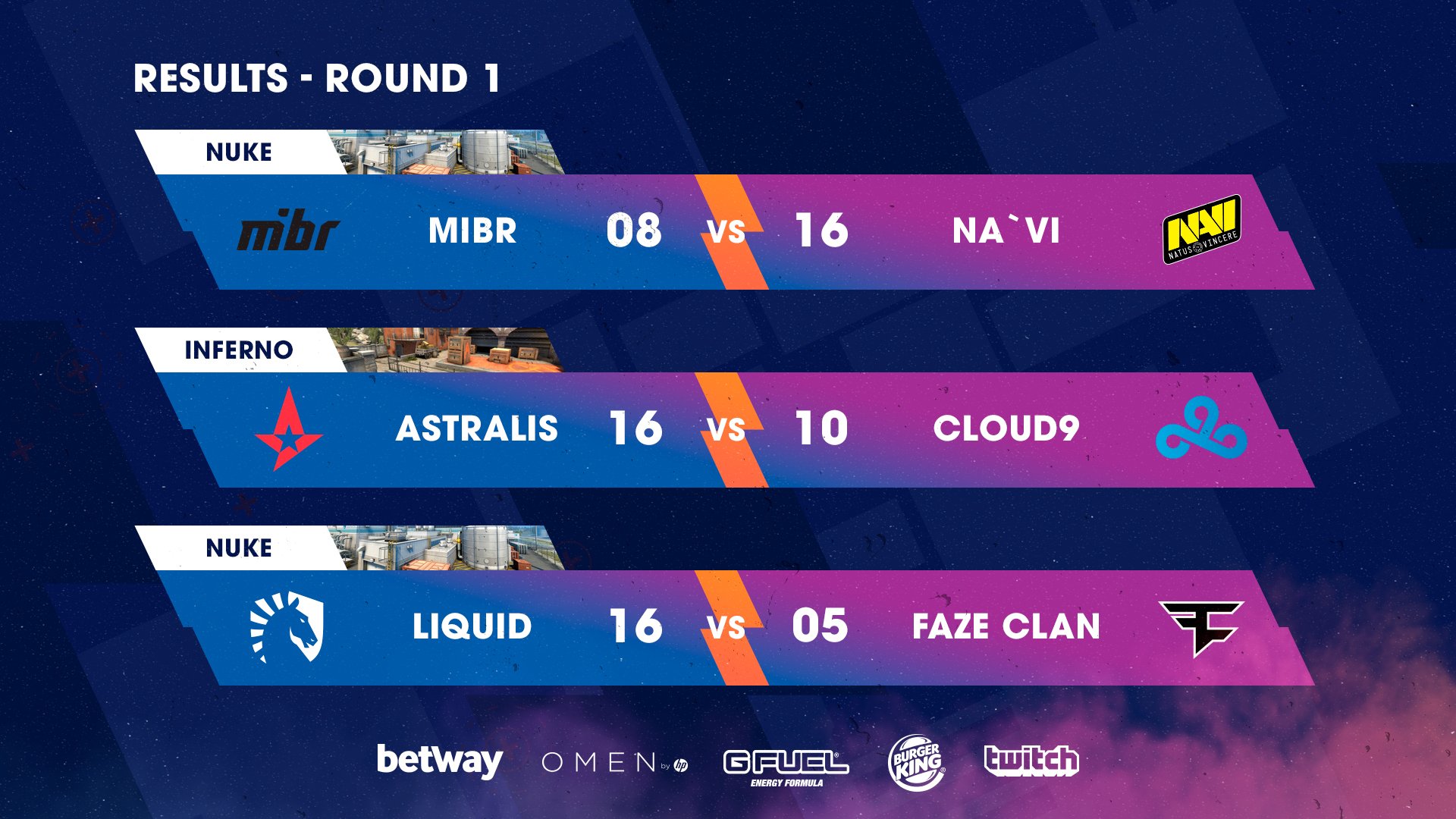 FaZe Clan and MIBR both tried their luck on Nuke against Team Liquid and NAVI respectively but to little avail. Both Team Liquid and NAVI took home comfortable wins while Cloud9 got a little closer to Astralis on Inferno, but was defeated by the Danes in the end.
Round 2
A true nail biter on Overpass ended with Team Liquid edging out their fellow countrymen on Cloud9. FaZe Clan versus MIBR never saw a winner as the teams put out equal forces on Mirage ending in a tie. 
Astralis got to continue their winning streak on Inferno putting up a comfortable victory over NAVI.
See you tomorrow!
That's it for the first day of BLAST Pro Series Miami, but we're far from over. Saturday, April 13, is when Watsco Center opens its doors to the audience for the first time ever in the US. 
Miami is going to be extra sunny as the lights from the iconic BLAST stage will illuminate the local US fans and people visiting to support their favorite teams. 
Tune in on our  Twitch channels again tomorrow and catch all the action of the historic US event!