Far East Organization injects SOHO chic to Hillview district with hillV2
Press Release •
Dec 08, 2011

&nbsp

10:46

&nbsp

+08
Destination boutique mall lends modern edge to exclusive transurban enclave Iconic New York luxury gourmet grocer is mall's first signature tenant
Singapore, 8 December 2011 – Far East Organization ("远东机构") unveils details of the 55,500 sq ft hillV2, the latest addition to the group's growing retail portfolio. The two-storey retail and lifestyle space complementing the hillier residences, will take centre-stage in the exclusive Hillview area along Hillview Avenue.
Channelling post-modern industrial chic, the hillV2 will cater to the needs of the sophisticated and well-heeled community of Hillview by offering an exciting selection of retail offerings to those with epicurean pursuits and high affinity for quintessential New York and London SOHO lifestyles. It will also be integrated with the hillier, a 528-unit SOHO residence that overlooks the nearby Bukit Timah Hill and Bukit Batok Nature Park. The Hillier is the second development introduced under the new Far East SOHO brand after The Scotts Tower.
Adding another dimension to aspirational living
"Home aspirations and demands continue to evolve and mount as buyers become more and more well-travelled. Through infusing elements of the popular New York and London SOHO culture into the concept and architecture of the hillier and hillV2, Far East Organization is adding yet another dimension to our second Far East SOHO offering. the hillier residents will benefit from the brand's distinctive values of strategic locale, excellent connectivity and flexible space not just within their homes. The edgy retail destination is designed to become an extension of the homes where people can hang out, celebrate their personal styles, eat with the family and derive more out of life," said Mr Chng Kiong Huat (莊强發), Executive Director, Development and Planning of Far East Organization.

Hillview: A coming of age
"The development of the hillV2 marks the coming of age of a neighbourhood steeped in history. Once an industrial area in the 1940s, Hillview has managed to transform into an affluent and exclusive residential enclave sidling the lush greenery from the surrounding nature reserves," said Mr Kelvin Ling ("林安勤"), Chief Operating Officer of Far East Organization's Retail Business Group. "We saw the potential in marrying old and new-world charm of the area. Combined with institutionalizing a unique retail mix of modern, specialty brands and merchandising located within this transurban location, the hillV2 will be a popular destination that residents and the community in the vicinity will come to enjoy."
Residents of Hillview echo this sentiment. Ms Grace Leo, 29, said, "Aside from the convenience and accessibility to more retail options, it would be great to have a designated landmark place for members of the community to meet and mingle with friends and family outside of our homes. Over the weekends, I don't just want to be able to run my errands with peace of mind, I also want to stop by for a leisurely brunch or coffee, unwind, take in the surroundings, and just simply feel a bit more inspired by my shopping. It feels good to know that I'm looking at quality products that may be a bit more exclusive and unique to this area and perhaps not so readily available in the mass market."
The mall will have 33 units with sizes ranging from 311 sq ft to 8,887 sq ft, offering a carefully tailored blend of trendy and tasteful products and services. F&B will comprise more than 60% of the retail mix.
The first to sign on at hillV2 is Dean & DeLuca, renowned for its artisanal gourmet experiences second to none. The New York lifestyle brand will be opening its flagship store at Orchard Central in the first half of next year.
Cold Stone Creamery, serving up the ultimate indulgence in premium ice cream, smoothies, cakes and shakes from America, will also open an outlet at hillV2.
Mr Ling added, "We are working with upscale retail and service operators, and other exciting themed restaurants and cafes to complete the SOHO chic attitude of hillV2 at the hillier." Together, the hillier and hillV2 will offer like-minded creative individuals an appealing environment for stylish living, and an accessible new hot-spot to enjoy a spread of retail selections.
hillV2, a long-awaited addition to the area, is expected to serve some 700,000 residents in the surrounding communities of Bukit Timah and Bukit Batok and close to 3,000 MNCs and SMEs around the International Business Park and the Jurong and Tuas Industrial Estates. Visitors of nature and heritage sites such as the Ford Museum will also enjoy the vibrant character of hillV2.
hillV2 visitors will be able to easily connect from the Bukit Gombak MRT Station and the upcoming Hillview MRT Station, and enjoy close proximity to lush nature from the Bukit Timah Nature Reserve and heritage sites in the area. Residents will also have easy access to Eco-Link@BKE, Southeast Asia's first ecological corridor, by 2013. This bridge is set to connect Singapore's two biggest nature reserves, Bukit Timah Nature Reserve and the Central Catchment Nature Reserve.
hillV2 is estimated to be completed by end-2013.
For media queries, please contact:
Weber Shandwick for Far East Organization
Aaron Yeo
Tel: (65) 6825 8079
Email: ayeo@webershandwick.com
Far East Organization
Shirley-Ann Ting, Manager, Corporate Affairs
Tel: (65) 6830 6273
Email: shirleyann@fareast.com.sg
Pamela Choo
Tel: (65) 6825 8200
Email: pchoo@webershandwick.com
Bertha Cheung, Manager, Corporate Affairs
Tel: (65) 6830 6341
Email: berthacheung@fareast.com.sg
About Far East Organization (www.fareast.com.sg)
Inspiring better lives
Far East Organization is the largest private property developer in Singapore, with a growing reputation for building innovative and functional spaces and providing high quality experiences and value for its customers. Since its establishment in 1960, Far East Organization has been contributing to the transformation of Singapore's urban landscape. It has built more than 700 developments across the full spectrum of real estate in the residential, hospitality, commercial, and industrial sectors. Far East Organization owns and operates the largest corporate leasing and hospitality portfolio in Singapore, including seven hotels and 11 serviced residences with over 1,200 apartments. In addition to its private development and investment arm, Far East Organization also has two public-listed companies, Orchard Parade Holdings Limited, a hotel and property group, and Yeo Hiap Seng Limited, a 111-year-old industry pioneer of food and beverage products in Southeast Asia.
Winner of Best Developer in South East Asia and Singapore at the South East Asia Property Awards 2011, Far East Organization is the only developer in the world to win six FIABCI Prix d'Excellence Awards, underscoring its unique achievements in the international and regional real estate arena.
Notes to Editors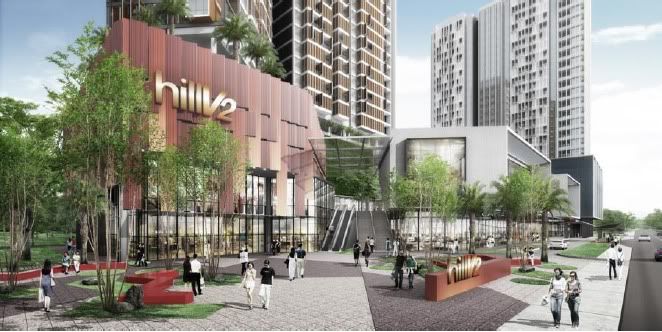 Artist's impression of hillV2, the retail and lifestyle component of the hillier, a Far East SOHO development that melds living, working, and leisure in a new trans-urban setting that offers chic uptown amenities in spacious out-of-town surroundings.
© 2011 Far East Organization. All rights reserved.