Bikes, Leather and Noise: Guitar Wolf, Atomic Suplex and Black Mekon - Live at the Dome, Tufnell Park
News •
Oct 03, 2016

&nbsp

09:27

&nbsp

BST
Guitar Wolf are a total rock'n'roll experience. Self styled as The World's Greatest Jet Rock'n'Roll Band they take rock'n'roll to it's logical conclusion and beyond.
Jet Rock'n'Roll is Guitar Wolf's unique combination of extreme volume, heavy distortion and screaming. A Guitar Wolf show is a complete energy overload that is akin to being in the blast zone of a sonic atom bomb explosion. Taking their influence from 50's rock'n'roll, The Ramones, Eddie Cochrane, Johnny Thunders, Joan Jett and Link Wray, the 'Wolf then mix it up into a maelstrom of noise.
On record Guitar Wolf inject their live energy into the recording process by never recording anything below red and on one occasion recording an entire album without having ever played any of the songs before-to ensure the sound was raw enough! In fact, Guitar Wolf's sixth record, Jet Generation proves if you rock hard enough you can break the laws of physics: Jet Generation is the loudest CD ever released in history of recording music.
There is no way to accurately describe London's own Atomic Suplex, though many have tried… "Rock and Roll mayhem"… "loud, raucous, trashy rock and roll". The UK quartet has been stirring up sonic trouble for a number of years now, earning increasing acclaim with every release and a reputation as one ferociously exciting and uncompromising band live.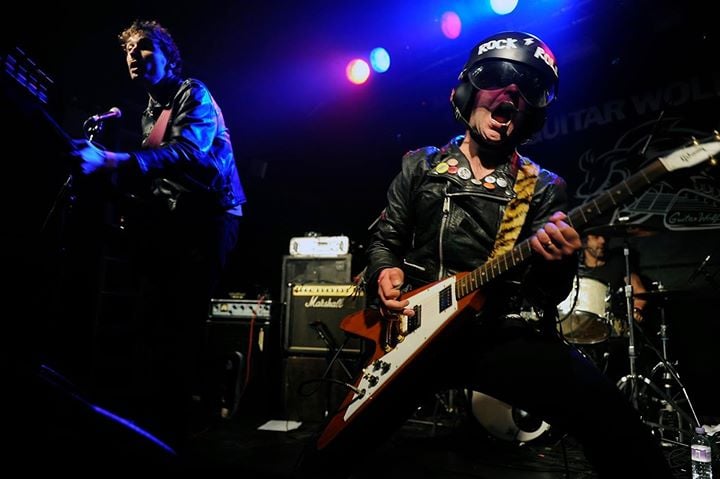 Their second album 14 inches of Fist (Dirty Water Records) has ignited a trail of blazing hot accolades the world over, having recently completed tours of Europe and Japan.
Black Mekon are a nameless, faceless duo from Birmingham. Together, they make blaring, sludgy garage bashers like "Jonny Diamond's Pink Flamingo Club". Their deep primary hook, a sort of droning blues with a dominating low-end, trudges persistently as their percussion becomes near explosive.
Smartly, they know to curb their near-nihilistic side with cooing vocals. But only sometimes, and even then, it's just a port in the storm.
Punk Rock Blues and Lewis Leathers present Guitar Wolf, Atomic Suplex and Black Mekon at The Dome in Tufnell Park on Friday 7 October to celebrate A Night of Jet Rock n Roll, Bikes, Leather and Noise! Get your tickets now!