Press release -
HIPSVILLE Carnival A Go Go! The Wildest '60s & Beyond Party Festival Weekend - May 13th -15th!
HIPSVILLE A Go Go! is where crazy people from all the corners of Europe, and beyond, get together to dance and party at a carnival-themed weekend to the wildest rock'n'roll and soul sounds of the 1960s and beyond! With thirteen live bands, top international DJs, caged go go dancers, hot rods and gorillas plus a whole bunch of people looking for a good time, that's HIPSVILLE Carnival A Go Go!
Saturday and Sunday afternoon its tiki time! At the HIPSVILLE Tiki party, taking place in the exotically themed bar they call Tikiville, you can party throughout the afternoon with DJs and go go girls, plus our Hipsville's very own cocktail mixer will add some extra hula hula to your drinks and your afternoon.
But wait, there's even more, as on Sunday we have the added attraction of the HIPSVILLE AUTO SHOW. Last year it was a huge success with over 80 cars rolling in. So in 2016 roll up in or on your ride or just look enviously at some of the coolest sets of wheels on the road. In addition to the music, girls and the cars, HIPSVILLE Carnival A Go Go! also has a three-day vintage market with stalls selling food, clothes, records and home wear, perfect for those looking for something cool to wear or maybe something hip for their home.
Swiss garage punks THE JACKETS combine sixties garage, mod, '77 punk rock, psychedelia and their devotion to bands like The MC5, The Monks, and The Music Machine. The Jackets bring a dynamic recipe to the garage rock menu but what matters is that the Jackets are a Rock and Roll band – but it's the ROLL that makes the ROCK just that little bit better!
The Jackets are Jack Torera (aka Jackie Brutsche) formerly the guitarist for the girl group The Mad Cowgirl Disease from Bern and singer of the Zurich combo The Fox, Chris Rosales, an American who moved to Switzerland in 1994 from Los Angeles, formerly the drummer of Voodoo Rhythm Records bands, Lightning Beat-Man and the Never Heard of 'Ems, Reverend Beat-Man and the Unbelievers and The Get Lost (with ex Miracle Workers Gerry Mohr and Robert Butler) and Samuel 'Schmidi' Schmidiger, singer and guitar player for The Budget Boozers.
The Jackets have electrified concert-goers in every major city in Switzerland and have also played or toured in Italy, France, Belgium, Holland, Germany, Austria, Czech Republic, Denmark, Norway, Spain, Portugal and Great Britain sharing the stage with bands like Baby Woodrose,The Monsters, Magnetix, King Kahn & BBQ, Lyres, Gonn and The Sonics.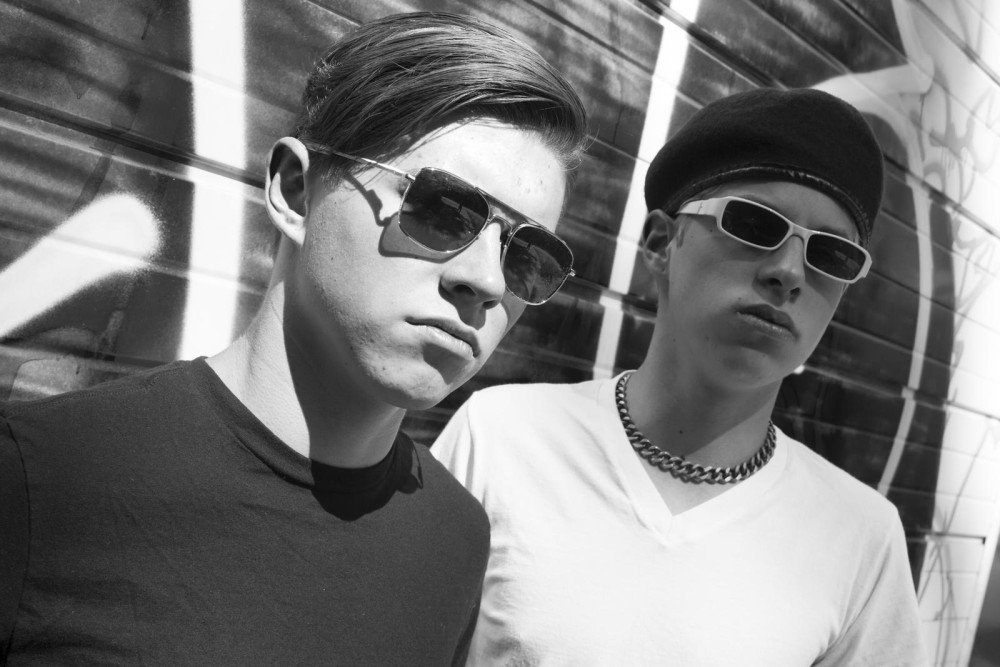 Late last year Dirty Water Records officially released to the wider world the much anticipated début LP from "the young, trashy organ and drums-only duo" from Cleveland USA, Archie and the Bunkers. The influential College Music Journal (CMJ) recently penned the "trashy twosome's" début as, "a clutzy, cavalcade of 'organ punk' (as the band have dubbed themselves), one of the better débuts of the year". 2015 indeed was year that saw the band propel from a mostly word of mouth local band to national and international acclaim.
Brothers Emmett and Cullen O'Connor produce a sound that draws heavily from diverse musical influences ranging from jazz organ greats like Jimmy Smith, and Richard 'Groove' Holmes, to punk icons Dead Boys (they opened for original member Cheetah Chrome earlier this year), The Stooges, The Screamers, The Damned, and more. These home-schooled siblings have obviously been receiving an education that is far less limited than that of kids who attend the local high school.
Formed in 2012 SEX CRIME feature ex-members from Epoxies , No-Talents and Operation S. The band is made up of Ryan : Guitar, vocals. Cecilia : Synth, Farfisa, vocals. Tim : Stand-up drums, vocals. Shauna : Bass, vocals.
Their HIPSVILLE Carnival A Go Go! show will be the last show and possibly their wildest! after touring in France, Germany, Spain, Italy and Belgium as part of their Euro tour to promote their debut LP 'SEX CRIME' released by Danger Records in March 2016. Listen to tracks from the new LP below.
Coming from Lyon, France, The Missing Souls are here to make you jump, shake, and shout! They play a soulful garage beat that will make you squeak…
They released their debut single on Dangerhouse/Skylab Records: "Just gotta know my mind" / "Bad way to go", and have just released their second single: "Got to have your lovin'" / "You ain't tuff" on Hidden Volume Records.
Their first LP will be hitting the streets real soon and will be released on Dangerhouse/Skylab Records again, make sure you grab a copy cos this one will be hot!
Are you tired of the Twist? Weary of the Watusi? Hungover from the Hully Gully?
Well then, it sounds like it´s time you tried the Chicken! The MFC CHICKEN, to be slightly more specific.
Sunday afternoon at HIPSVILLE Carnival A Go Go! you'll be treated to a very special one-off MFC CHICKEN DeLUXE show, as they'll be joined by roots rhythm and soul diva SISTER COOKIE plus ALL STAR SPECIAL GUESTS for a sax fueled R'n'B Revue performance that is guaranteed to get you doing the Chicken!
SISTER COOKIE, roots, rhythm and soul singer.
Performing in some capacity since her late teens, and teaching herself to sing and to play the piano from an early age, SISTER COOKIE was a fixture of the vintage & retro music scenes in London, appearing regularly at events like the Lady Luck Club nights, Jukebox Jam and Shore Leave. Following a few years' hiatus to focus on family life, she returned to music at the end of 2012. Since then, she has gigged across Europe, including wild and wonderful roots music festivals such as Lache Pas La Patate in France, Sweden's Hultsfreed Hayride, Funtastic Dracula Carnival and Slap! Festival in Spain. 2015 brought more of the same, with plenty of shows both at home and abroad, including a successful first tour of Spain.
MFC CHICKEN are inspired by the early 60´s frat rock sound of the American Pacific Northwest purveyed by the likes of the SONICS and the WAILERS, these chicken-men took the sound that influenced those acts and combined high-octane Little Richard and Chuck Berry style Rock and Roll, dirty New Orleans Rhythm and Blues, West Coast Surf, Frat House Stomp & Twist Music to create something that has now come to be known (by those in the know) as, the chicken sound"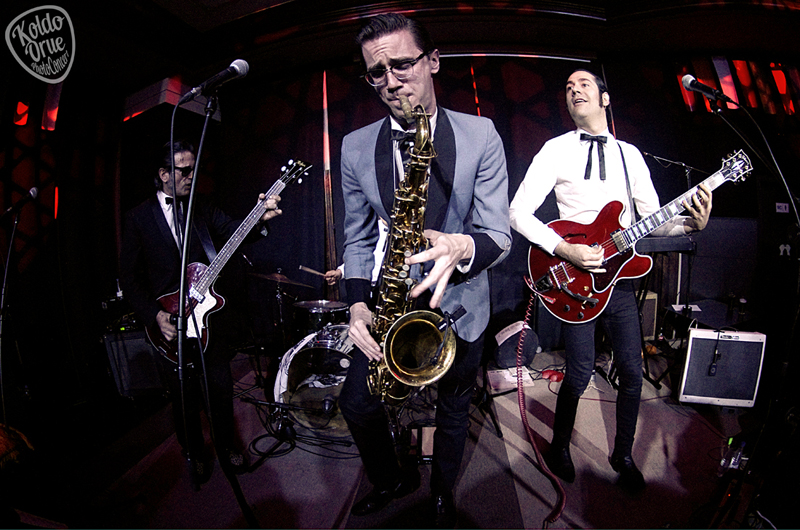 Hipsville 2016 Full Band Lineup:
MFC CHICKEN DELUXE FT. ALL STAR SPECIAL GUESTS (UK) "red hot! r&b all stars"
ARCHIE AND THE BUNKERS (USA) "teenage hi-fi organ punkers"
DAVROS AND THE DEEP SPACE DEVIANTS (SKARO) "intergalatic rock'n'roll with the leader of the daleks"
WILDEBEESTS (UK) "legendary garage punkers"
THE STOMPIN RIFF RAFFS (japan) wild japanese rock n roll
THE BARON FOUR(UK) "wild, raw garage punk"
SEX CRIME (USA) "sex punk, crime wave, synth rock n roll"
DOKTOR COMBOVER (UK) "las vegas peep show groovy grind"
WEIRD OMEN (FR) "primitive trashy sax fuelled garage"
THE JACKETS(CH) "electrifying rock n roll"
THE MISSING SOULS(FR) "soulful garage beat
THE TIKIHEADS (unknown) "long lost surf legends!"
L.A. BRATS (FR) "they're glam, they're trash, they're rock n roll"
The party continues until 5 a.m. each night in our themed Tiki bar we call TikiViLLE.
With top international DJs spinnin' the grooviest '60's r&b, soul, tittyshakers, garage, instrumentals, psych and more.
Hipsville 2016 Full DJ lineup:
Pete Slovenly
Fritz Buzzsaw and Diddywah Wah from Heavy Sugar
Neil and Chris Sick from Stay Sick!
Carl Combover from Go Go Cage
Johnny Alpha
Iwan Le Terrible
Cosmic Keith
"Demon Drome" Wall Of Death, At Hipsville Carnival A Go Go!
NEW VENUE FOR 2016!!
BORDON SPORTS, BOLLEY AVE. BORDON, HAMPSHIRE UK GU35 9HG
3 DAY WEEKEND TICKET £65
DOOR TICKETS
3 DAY WEEKEND TICKET £75
SUNDAY TICKET £7
(cash only, all door tickets subject to availability)
MORE INFO HERE
'PRE PARTY'
THURSDAY 12TH MAY 8PM TILL LATE! £8
(cash only on the door)
MORE INFO HERE
Children under 16 free. No under 16's allowed in the TiKi bar after midnight.
---
The Dirty Water Club started in October 1996 in the Tufnell Park neighbourhood of north London, at a venue called The Boston. The club's name is derived from The Standells' 1966 hit 'Dirty Water' which glorifies the US city of Boston, Massachusetts.
Past performers have included The White Stripes (voted by Q Magazine as one of the top 10 gigs of all time, Mojo one of the top 30 and Kerrang one of the top 100!), The Gories, NOBUNNY, Kid Congo Powers (from the Cramps), The Fleshtones, Billy Childish, Radio Birdman, The Dirtbombs, Thee Michelle Gun Elephant, The 5.6.7.8's, The Horrors and The Brian Jonestown Massacre to name just a few. The club has also seen some original '60s performers, such as The Monks, ? and the Mysterians, Kim Fowley, Sky Saxon, GONN, Michael Davis of the MC5 and more grace its stage.
Their in-house record label, Dirty Water Records, is one of the leading garage/beat/(real) R&B labels in the world.