Introducing Floral Artist, Shyama Ruffell
The Sussex countryside influenced Shyama Ruffell's decision to study textile design, specializing in print and surface patterns. She continued her career as a design assistant and co-ordinator of a fashion business before becoming a freelance textile designer and working for a wide range of companies including Sanderson, Oasis, Selfridges and Hennes.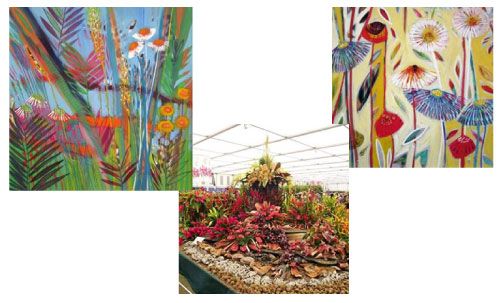 We've had fun drawing visual comparisons with this year's RHS Chelsea Flower Show gardens (as pictured above). Please see the attached for more comparisons and the full press release.
Easyart.com is a simple and inspiring way to shop the UK's best selection of art prints and posters online. Its huge collection of images has been built up since 1999.
Relationships with organisations such as the National Gallery as well as emerging contemporary artists make for a range unparalleled in its breadth and diversity. Regular updates to the collection ensure that on trend products are always available. Styling insight is also covered on the site's Easyart Loves blog.
Prints are customisable, with a variety of bespoke framing and canvas options available on the site. Framing is carried out in the UK by skilled artisans to ensure a gallery quality finish.
Easyart is pleased to work with journalists that want to access the latest developments in wall décor, and frequently accommodates product loans, image requests and competition prizes.
Attached Files
Comments (0)