Press release -
Global Manager Group Launched Upgraded BRC Food Safety Issue 8 Documentation Kit
On August 1, 2018, BRC published the much-awaited BRC Global Standard for Food Safety Issue 8. All organizations having BRC food safety issue 7 certificate need to upgrade their system to BRC food safety issue 8 from February 1, 2019.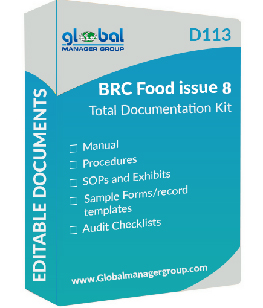 Since the release of new BRC Food Safety Issue 8 standard, the consultants' team of Global Manager Group started work on revising BRC food safety documentation kit as per BRC Food Issue 8 standard requirements. In very short time of release of standard, Global Manager Group has re-introduced its product D113 - BRC Food Safety Issue 8 Documentation Kit to help organization in transition from Issue 7 to Issue 8 or implement BRC Food Safety Issue 8 Certification for the first time.
This new documentation kit provides comprehensive set of pre-written BRC food documents compliant with the newly released BRC food issue 8 standard, built from the necessary BRC manual, procedures, exhibits, SOPs, sample blank and filled templates, BRC food audit checklist, etc.
Mr. Devang Jhaveri, Managing Director of Global Manager Group stated "GMG is very happy to re-launch the BRC Food Issue 8 Documentation Kit, which is designed to help all world organizations and BRC consultants to understand the requirements of BRC food issue 8. The vision and aim of the company is to provide accurate solution for documentation that makes overall certification process quick and effective."
With this product re-launch, Global Manager Group has committed to deliver Readymade BRC Food Issue 8 Documentation Kit at very competitive price at just 499 USD, which covers sample templates that are written in simple English and easily editable format. The user can update total documentation templates as per organization working system and create own documents for their company in quick time.
Users can download a Free Demo of the revised BRC food issue 8 documentation kit to find out more about how it can help organization in quick BRC food certification.
Categories
brc food issue 8 documents

brc food issue 8 certification

brc manual

brc food documents
---
About Global Manager Group
Global Manager Group (GMG) is a world-class consultancy company, established since 1991. It provides services for ISO 17025, ISO 9001, ISO 14001, ISO 20000, ISO 17020, OHSAS 18001, HACCP, BRC global standard and more quality certification. Global Manager Group is a well-known brand for its Ready-to-use ISO Documentation Kits and ISO Auditor Training as well as Management Training Kits. Across the world, GMG is having more than 2700 clients who have already purchased such readymade document kits and successfully complete documentation process quickly and effectively. Visit GMG's website for more detail: http://www.Globalmanagergroup.com.