News -
Social media went crazy – 8 Amazing nights in a row of Northern Lights
Rovaniemi bathing in an amazing 8 nights in a row of Northern Lights. September just beginning and we are already having a full sky-spectacle for over a week, amazing right? All arctic people have their own beautiful mythology, believes and names for this heavenly phenomena. In Finnish the Northern Lights are called "Revontulet".
Every child in Lapland remembers the stories told of Northern Lights, surrounded by abundance of snow, looking up on clear skies of stars and moon, waiting for the dance of a fire fox on snowy fells. Zachris Topelius, a historical Finnish writer and a poet, wrote stories filled with marvel and fantasy, for us Children of the Northern Lights to build our believes on. And whenever we see the Northern lights, we are walking on the pages of childhood stories.
All arctic people have their own beautiful mythology, believes and names for this heavenly phenomena. In Finnish the Northern Lights are called "Revontulet". "Repo" is a word for fox and "tulet" is a word for fire, due to mystical Finnish Folklores and believes. Skolt and Sami people have a deep respect for the Northern Lights. And even though the Northern Lights are tiny particles of the sun, traveling to Earth´s atmosphere, generating energy, seen as photon -Northern Lights- from the surface of the planet Earth, some old believes suggest the light phenomena as souls of people before us.
Even when the locals see the Northern Lights every year, we never get bored with them or lose the feel of childhood magic and fairytale. Here the #visitrovaniemi social media went crazy during the 8 nights of dreamy Auroras:
                                                                 @roliveira33
                                                                @jannekoski_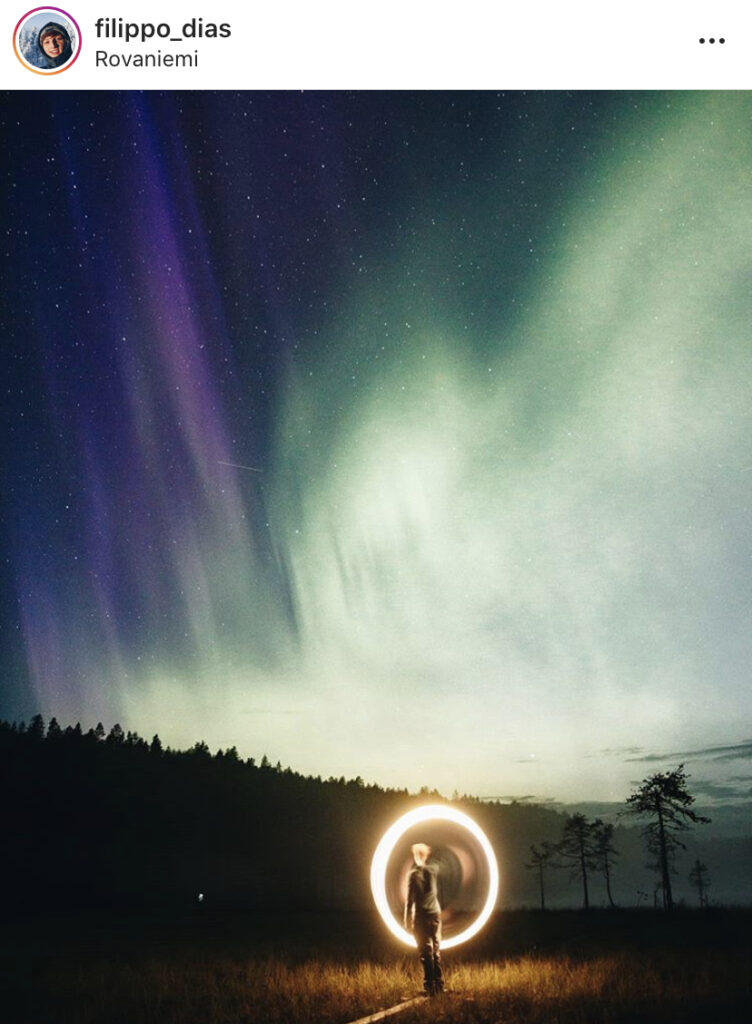 @filippo_dias
                                                               @sampulainen
                                                               @eerokoivula
                                                               @janiylinampa
                                                              @prince_of_lapland
                                                               @cvilmila
                                                               @minh.bing
                                                               @saijaaaaaa
                                                              @tonieskelinen
                                                              @lorenzmira
Arctic Words for the Northern Lights or Aurora Borealis
Finnish – Revontulet, Norwegian – Nordlys, Icelandic – Nordurljós, Estonian – Põhja valgus, Swedish – Norrsken, Eskimo – Keoeeit
Local Northern Lights tips
Visible 150 nights a year in Lapland, from late August until early April.
Best time of the day is between 10 pm and 2 am.
Show lasts from few minutes to several hours.
Take a Northern Light tourin Rovaniemi.
Take a Photography Course on Northern Lights.
Places for viewing the Auroras near the city centre.
More Visit Rovaniemi Articles on Northern Lights:
Top ways to see the Northern Lights in Rovaniemi
What's the best time of year to spot the Aurora Borealis?
---
Visit Rovaniemi is the local tourist board of the Rovaniemi region in Lapland, Finland, and will bring you the latest stories and news from the Arctic Circle! Northern people, Arctic phenomena such as Northern Lights and the Midnight Sun, Arctic animals, events and of course Santa Claus and Christmas all year round!
Visit Rovaniemi is the city's Christmas brand guardian. Visit Rovaniemi keeps central throughout its operations the Christmas brand values: authenticity, giving and caring, surprise and innovation as well as constant presence. Read more about the Rovaniemi Christmas brand below.
Download Rovaniemi Christmas Brand brochure as PDF here
Established in 2007, Visit Rovaniemi engages in image marketing, media visits, communications and PR, tourist information and congress marketing (Rovaniemi Congresses).