Mailis Pokk, winner of free AHLEI course in Haaga-Helia's stand at Tallinn FoodFair
News •
Nov 11, 2015

&nbsp

12:12

&nbsp

GMT
Haaga-Helia participated at the 16 th Tallinn FoodFair (TFF) in Tallinn on October 28-30 and among other activities drew lots at the fair stand in order to award one participant in the end of the event with a free AHLEI (American Hospitality & Lodging Education Institute) online course delivered via Haaga-Helia as the certified AHLEI provider in the region.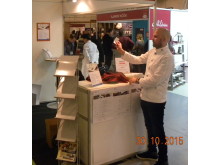 Based on the lots drawn by Tõnis Siigur – the gourmet chef running the No 1 restaurant in Estonia, Noa - the course was awarded to Mailis Pokk, a former hospitality student of EHTE and a national basketball team member.
Congratulations to Mailis!