Tallinn-Helsinki ferry line celebrated its 50th reopening anniversary
News •
Aug 17, 2015

&nbsp

10:41

&nbsp

GMT
On July 7, Port of Tallinn celebrated the 50-year anniversary of re-establishing regular ferry service between Tallinn, the capital of Estonia, and Helsinki, the capital of Finland.
On the occasion of shipping line's 50th anniversary, Ain Kaljurand and Port of Helsinki's Director Kimmo Mäki placed in Old City Harbour's A-terminal a memorial shield commemorating the first journey of the ship.
Also a conference dedicated to the historic event was held in the terminal prior to the opening ceremony of the memorial shield.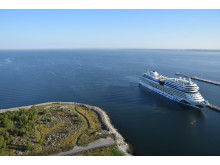 Re-establishing regular ferry connection in 1965 after 25 years was a symbolic gesture, but also a success story. While in the middle of 1950s only a couple of hundred of tourists from Finland visited Estonia, there were already 15 000 visitors after reopening the ferry line.
From 1965 until 1990, as much as 3 million Finnish tourists visited Estonia. If we put these numbers into the past context, these tens of thousands of foreigners helped to transform a once closed town again into an open maritime city.
Today, four shipping companies operate daily on the Tallinn-Helsinki route - from Old City Harbour –Tallink, Viking Line and Eckerö Line and farom the quay of nearby Linnahall, the catamarans of Linda Line operate between the two capitals as well.
During the summer high season, Tallinn-Helsinki route has up to 18 departures and up to 20 000 passengers per day. In 2014, a total of 7.96 million people traveled between Tallinn and Helsinki through Old City
Source: Port of Tallinn
Photo Credits: Anu Vahtra