Influencer marketing is definitely catching more and more attention from CMOs worldwide. Although the marketing type has been around for a couple of years now, it's still a new way of working, and the tactics and approaches are not always 100% clear, not least because it can be difficult for marketers to understand how to get bang for the buck.
We guess that if you are reading this blog post, you are looking for a first-time collaborator with an influencer, or you want to explore the possibilities influencer marketing could bring to your company. Maybe you have previously invested in influencer marketing but did not get the results you were hoping for due to unplanned circumstances (no shame, you are not alone. We'll talk more about this and how to avoid some of the influencer marketing mines other companies have stepped on before you).
This blog post covers the basics of influencer marketing, how to reach out and work with influencers, do's and don'ts, KPIs to set and how to measure them, and much more!
Why is Influencer Marketing so popular?
Influencer marketing is a social media marketing type that has absolutely exploded in recent years. One reason influencers are so popular nowadays is because of the high level of trust that they have built up with their followers. And as we all know; recommendations from people we trust are the best kind of marketing.
Another reason influencer marketing has grown is that companies can see direct results from it, especially when it comes to marketing products that are not too expensive and where people don't ask others for advice. That's why the beauty and fashion industry loves influencers; it's so easy to reach one's desired audience and quickly turn them into buying customers.
If you are looking to increase your awareness amongst a new audience or a segment within your audience, influencers are a great way to reach them. Appearing on the desired account will give you quick recognition amongst a lot of people, and the influencer will act as your brand ambassador, meaning that your brand will be connected to a person who humanizes your brand. Further, influencer marketing raises the customer lifetime value, since customers are remembering your brand better and more positively when you are connected to a person that they like. Therefore, influencer marketing might be the perfect solution if you are positioning yourself in a new market, a new geographical area, or a new country.
The fact that your audience wants to take part in your desired influencer posts, is a vital part of influencer marketing; influencers make marketing more relevant. TV commercials, in comparison, are often shut down as most people consider them annoying and interrupting. This is not the case on social media – on the contrary – social media is where we turn when TV commercials are on. Think about the push and pull effect; TV commercials are often considered to be disturbing breaks you don't ask for, while influencers are people you are actively following.
Your other media initiatives are also strengthened by influencer marketing as it contributes to brand awareness and will therefore lower the cost of your social media ads as more people are aware of your brand.
Find the right influencers
Finding the right influencers depends widely on what industry you are in.
Beauty and fashion typically find their influencers on Instagram and YouTube, while the video game industry dominates on Twitch.
If you're unsure of where to begin, social listening can help you identify where and how people are talking about your brand. This way, you can find the most influential influencer in your industry on each platform. If you are interested in social listening, we have a product page about media monitoring where you can learn more about it and book a demo.
In the next chapter, we will go through networks, agencies, and platforms to find influencers. But if you want to search for your choice of influencer on your own, here are a couple of tips on what to look for:
Is the influencer posting about similar things to your service? For example, if you're a travel agency, look for someone who usually posts travel images.
Is their level of engagement equal in comparison to their following? A poor engagement ratio compared to the number of followers and a high amount of spam-like comments are signs of a fraudulent or not that popular account.
Has the influencer worked with similar brands before? This will increase your chances of collaborating with them.
Once you've chosen your influencer, it's time to reach out to them. For micro-influencers, you could approach them in a private message on the platform. More established influencers usually have contact information in their bio's with emails, people, websites, or agencies to contact them via.
If your desired influencer has not expressed that they are looking for a collaboration, you can make the opportunity appear for them. When doing your influencer research, you might discover, in a Q&A or a comments field, for example, that the influencer's followers are asking certain kinds of questions or have problems that your brand or offer can solve. Reaching out to that influencer and pitching how you can make their follower's life easier might be the beginning of your collaboration. And vice versa: the influencers might reach out to you with this same intent!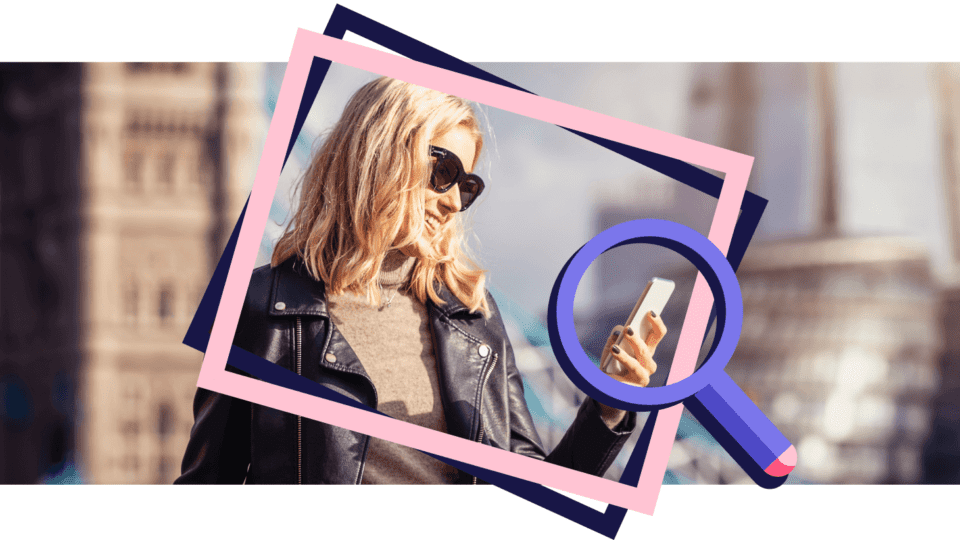 How to work with influencers
There are different ways to get in touch and work with influencers. Of course, this varies depending on the number of followers they have, which industry they are in, and what type of profile they are positioned as. Here are three common ways to work with influencers:
Influencer marketing agency
An influencer agency works kind of like a model agency. The agency has a "stable" with profiles/influencers for you to choose between. Agencies often have bigger and more popular profiles that many companies want to collaborate with. Working through an agency might be convenient if you haven't worked with influencers before. Also, if you don't know what influencer to collaborate with, you can contact an agency, tell them your budget, and they can match a profile to your budget.
However, this option can be rather expensive, so you should be sure that you really want to work with a certain profile to make your money's worth with an agency.
Influencer affiliate network
An influencer affiliate network is a marketing strategy that encourages influencers (also called affiliates) on any social network to promote your brand in exchange for a commission on sales, lead signups, or clicks.
Here's how it works: you upload a brief of a campaign on an affiliate network and specify what commission you are paying for a certain amount of clicks, leads, or sales from an influencer. The influencers can then choose your link or offer and promote it on their accounts.
The influencer doesn't have to ask for your permission to use the link. When you upload a marketing brief, you agree to anyone using your link to promote your brand, which is convenient as you don't have to do too much work yourself. But it also contains the risk that someone who you don't want your brand to be associated with ends up promoting you. Another risk with affiliate marketing is that collaboration is not guaranteed; you cannot be sure anyone will accept your brief.
Affiliate marketing is great for cheaper products that convert quickly. Consider this strategy if you don't want a big campaign but rather want to invest in smaller initiatives or ongoing advertising.
Influencer platform
Influencer platforms are great for micro-influencers with 2000-20 000 followers. This strategy is kind of like affiliate marketing mentioned above, in the way that you don't have to look for influencers to work with yourself. You upload a brief on the platform, and influencers can apply for the collaboration. Unlike affiliate networks, an influencer platform offers you more control over which influencer to collaborate with.
PR platform
You can also use a PR platform, like Mynewsdesk, to reach out to relevant influencers. Our feature Audience Builder, for example, enables finding and connecting with over one million global contacts such as influencers. You can also use the feature to track your engagement, send pitches, and more.
Audience Targeting is another Mynewsdesk function with an AI feature that will save you both time and resources while searching for relevant influencers. Our AI will analyze your content, and based on it, identify and provide suggestions for relevant influencers that you should contact. You will receive updated suggestions with each publication, which will increase your control and ensure that you reach relevant people for each new publication.
Examples of how to work with influencer marketing
You and your influencer's creativity is the only limit when planning your collaboration. If you are short on inspiration, here are some of the most common ways to work with influencers:
Publish stories
Publish in-feed posts
Pay people to attend an event
Q&A
Live shopping
Hauls (showing products in a video)
Guest collections (common for clothing or jewelry companies)
Influencers' marketing do's and don'ts
You can always learn from mistakes, and when it comes to influencer marketing (as it is a relatively new marketing type); a lot of companies have made mistakes before you that you can hopefully learn from. The first ground rule to know about is: have clear contracts covering things like material rights, deadlines for drafts to approve, clear briefs regarding visual design, words not to use, etc. Also, set guidelines for statistics; what to measure and what to present how and when.
Here are three influencer marketing mistakes commonly made by brands:
Choosing the profile first and setting the KPIs afterward. The ideal strategy is the other way around.
Having too many CTAs (tag a friend, follow us on Instagram, post this on your channel, swipe up, etc.). Choose one, and stick to it.
Trying to have too much control over the influencer's creative process and content ideas…
… Businesses who have stricter laws and rules, often have a script for their influencers to act from. Companies that cannot "afford" mistakes – like banks or companies that sell medication or products/services that might cause harm – tend to use scripts to avoid miscommunication. The drawback of this is that the influencer might not find it joyful to work like that (after all, it's their account and their brand – it's only natural for them to want their creative freedom), and you risk them not wanting to collaborate with you again in the future.
What does a campaign cost?
Prices for influencer collaborations vary greatly. But it's not unusual for minimum payments to be around € 5000. It goes without saying that micro-influencers are cheaper than bigger profiles. Influencers in certain industries cost differently, and different types of influencers cost differently. There are more conversion-driven influencers which are often cheaper and will most likely guarantee immediate sales. And there are more brand-building influencers, people who humanize how a brand wants to be perceived, and these people tend to be more expensive and are to be viewed more as long-term investments.
Some micro-influencers are willing to be paid in products or services. It's not unusual for companies to send gift packages to relevant influencers, hoping they will casually open the packages in a vlog or use their products in a video. The marketing law says that influencers have to state or mention if and when they are doing a paid collaboration. But if they are just using a product or opening a branded gift package in a video, it's not classified as commercial, and therefore brands don't have to pay anything. This strategy, of course, has no guarantees that the influencer will use or show your products.
If you are using an affiliate network or influencer platform, you can set your budget by yourself. Some platforms or networks have a minimum amount of money that you need to offer in order to publish your brief, and this price varies depending on the platform or network.
Further, you can pay for exclusivity, meaning that the influencer cannot post any other collaboration with other brands within a certain period after your collaboration. However, keep in mind that this could be rather expensive.
How to set KPIs and measure the effect of Influencer marketing on social media
It's wise to determine your KPIs first and choose influencers afterward. Your collaboration should, of course, emanate from your overall business goals; what do you want to achieve and could influencer marketing help you get there?
Audience engagement is one of the most important and common metrics to analyze before and after investing in influencers. This is important not only as engagement will help you detect the interest of your brand amongst your target audience. It is also important since social media algorithms use engagement to determine how many people to show your (influencer) post to. Keep in mind that the amount of engagement is relative to the size of the influencer's audience. Smaller micro-influencers typically have a higher level of engagement than those with 1m+ followers, for example.
Another interesting metric to track is the number of mentions your brand is receiving before and after the campaign. You can manually check your mentions on each platform, or you can use a media monitoring tool to automate the process and never miss a mention, even on the platforms you aren't active on. A monitoring tool will also inform you about mentions you otherwise might have missed, like in magazines or on blogs unfamiliar to you.
Tracking the effect of Influencer marketing on social media
Your audience growth rate on your social media accounts, website visitors, paying customers, etc, is another key metric to track after an influencer collaboration. Assuming the influencer's brand is aligned with your customers, you should typically see spikes in audience growth aligned with their post schedule.
Typically, an influencer collaboration post usually contains a CTA of some sort that leads the audience of the platform and onto your site. Analyzing traffic from social media will give you an idea of how interested and willing the audience is to become a customer. Therefore, ensure you have proper ways to measure the effectiveness your influencer post has off the platforms.
The next step after analyzing the traffic is to track how many people did what you wanted them to do (for example, make a purchase) to determine the ROI of your influencer marketing. Tracking this can easily be done with trackable UTM links and analyzing them in Google Analytics. Using special-made discount codes is another way to go, where you will measure the results in your e-commerce management system.
Summary
Although the ways of working, laws, strategies, and approaches to influencer marketing might seem like a lot to take in for a first-time collaboration; the process is not too unlike your other marketing campaigns. You do your research, set a budget, determine goals, find your influencers and then you learn as you go!
Mynewsdesk is the market-leading one-stop solution for all your PR and communication needs.