According to several recent reports, building and maintaining trust is one of the main challenges for Nordic PR and communication professionals. With a more demanding climate and ever-growing audiences, expectations have heightened for responsible actions. So, how do you build and maintain trust within your organization?
A tougher climate
The growing trust gap in business communication is well known. Recently, we have seen people growing more sceptical and prone to search for authenticity and facts in times of instability. According to our latest report State of Nordic PR & Communication, Nordic PR and communication professionals feel that the climate has gotten tougher. Almost six in ten say their target group has become more critical, and nearly as many say it has become more difficult to handle negative PR and communication.
According to Forrester, organizations that maintain trust will thrive during 2023. Therefore, building and safeguarding trust must be a priority for every organization as we advance. Companies that cultivate trust will not only develop unbreakable bonds with customers, but also attract the most dedicated talent. If you want to learn how to build and maintain trust, step-by-step, read our guide here: LINK
Sustainability expert Moussa Mchangama has worked in the communication industry for more than a decade and verifies that the demands on communicators today are higher than before.
– Communicating around responsibility is different from just a few years ago. Today, you need to understand nuances and complexities differently. You are expected to have a broader and deeper knowledge of responsibility topics and their connection, he says.
The building blocks of trust
So, earning your audiences' trust seems more challenging than ever. But what is trust built on? As trust is a broad concept often thrown around without a precise definition, we decided to understand better what factors Nordic PR and communication professionals see as most important to communicate to build and maintain trust. The results show that environmental responsibility is seen as the most important, but that social responsibility plays an almost equally important role.
Communication activities that PR and communication professionals believe are important to communicate about to build and maintain trust.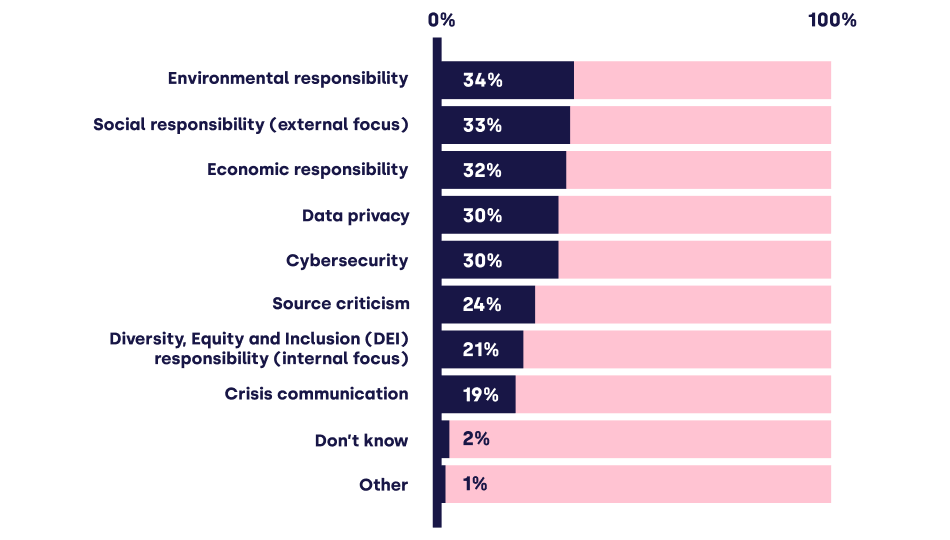 In this blog post, we will take on a holistic approach on how brands can build trust and maintain it.
How to communicate complex issues in a simple way – the main trust issue
As it turns out, Nordic PR and communication professionals consider explaining complex topics simply and engagingly as the main challenge of building trust. This has been confirmed in several studies – today's consumers are struggling to understand communication connected to social responsibility.
Complex issues need education, not simplification
Since people need help understanding complex topics, you might think that simplifying is the solution. But the problem is that simplified sustainability claims can be seen as misguidance covering unsustainable business models. So how can communicators make sure the audience understands and engages without misguiding them? According to sustainability communication expert Moussa, communicators must respect and take responsibility for the fact that some issues can't or shouldn't be oversimplified.
– We who work with communication have a responsibility to insist that these are complex matters, and it's our job to educate our audiences, especially as other institutions such as politicians and media fail to do so. So, helping people understand complex issues is a significant opportunity to create closer bonds and relations with our audiences, he explains.
– We are too used to running fast and simplifying everything. In order to capture the complexity in these issues, we need to slow down and work more thoroughly. Focusing on a few key audiences and channels allows for more time and space to make sure you get your message across in an understandable and correct way.
Social responsibility starts from within
While external communication on social responsibility is one of the top priorities for Nordic organizations to build trust, internal aspects of social responsibility come further down the list. But as sustainability expert Moussa points out, the internal focus is just as important as the external. That's where it all starts.
– Many organizations think that internal and external social responsibility can be separated. There's a significant risk with this belief, as it alludes to the idea that you can communicate something externally that doesn't necessarily reflect your actions internally. This is wrong – social responsibility starts from within. You can't talk about something externally that you don't live internally. With this approach, you'll have difficulty building reliable and holistic communication. People today are much more conscious about and engaged in these issues and can sense when it's not solid, he says.
Our study shows that people are sceptical if the social responsibility of organizations works. More than one in ten (14%) of Nordic PR and communication professionals say their department has dealt with employee treatment/satisfaction issues in the past year. Almost one in ten (9%) have dealt with woke washing claims.
Well-being and human potential expert Frida Roberts has an extensive background in the communications industry. She now focuses on helping organizations improve workplace well-being and performance with a specific focus on creativity, flow science, and psychological safety. Frida agrees with Moussa that there needs to be more understanding of the connection between external and internal social responsibility. She argues that most organizations undervalue caring for employees' physical and mental well-being. And even when organizations intend to improve employee well-being, they often focus on the wrong things.
– Mindfulness classes or free gym memberships for employees are all good, but they are more like icing on the cake – they won't solve the root problem. Most work-related health issues indicate that employees' basic needs are not met. This is why establishing psychological safety is paramount; it means creating a culture where people feel safe, accepted, and included. When these conditions are met, you think you are secure in showing your 'real' self in the workplace. Surprisingly few organizations use existing evidence-based tools to create and foster psychological safety systematically. Hence, there is an enormous amount of untapped potential to harness that would lead to increased employee wellness and optimized business performance, she explains.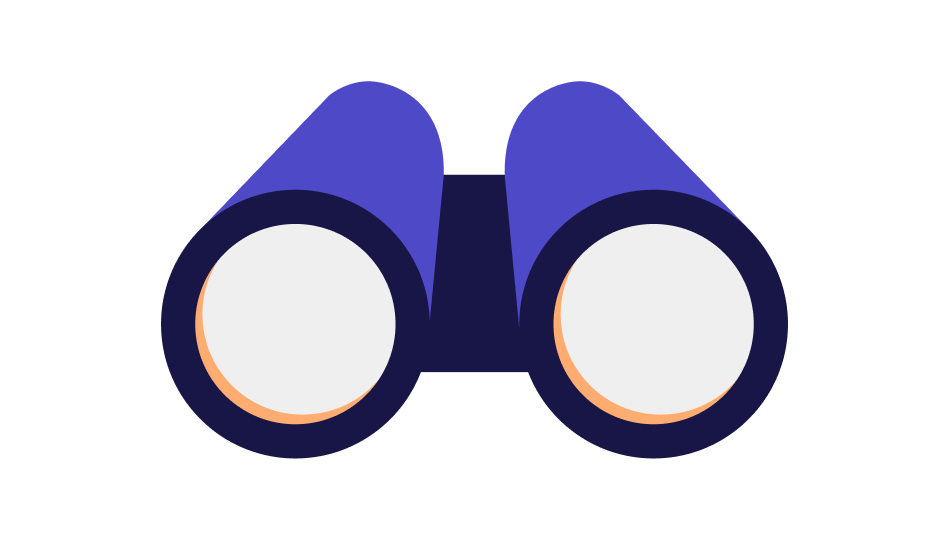 A look in the fortune teller
As mentioned by Forbes, companies are now uniquely positioned to develop even stronger relationships with their customers. The key to doing it well is having the right strategy; creating valuable content, focusing on the actual value rather than promotion, prioritizing authenticity and sharing customer stories are four crucial areas where companies must work proactively.
Transparency will remain a critical factor in building trust. This is true even when we talk about companies' shortcomings. Authentic, relevant, personalized content builds trust and will probably continue. Innovation expert Jens Bode has created an exciting graph that displays potential risks and trends for consumer brands that you can check out here.
Summarized
As already mentioned, a lot of matters in the business world are complex. What is important to remember is that as an organization, you should not try to simplify the complexity, but rather educate. To capture the complexity around certain issues, it is important reflect, and work more thoroughly. Also, focusing on a few key audiences and channels allows more time and space to ensure you convey your message understandably and correctly.
The main areas where trust is built, according to our report, are environmental responsibility, social responsibility, economic responsibility, data privacy, cybersecurity, source criticism, diversity, equity and inclusion, and crisis communication.
When it comes to social responsibility, many organizations tend to think that internal and external social responsibility can be separated and treated differently. There is however a significant risk with this belief, as it alludes to the idea that you can communicate something externally that doesn't necessarily reflect your actions internally. Social responsibility needs to start from within.