Hospitality Insiders Club Estonia was succesfully launched
News •
Oct 01, 2015

&nbsp

11:48

&nbsp

GMT
Hospitality Insiders Club Estonia was successfully launched on Wednesday 23rd September in the beautiful facilities of Palace Hotell, Tallinn. There were 23 professionals to prove the historical starting moment of a new kind of network of Estonian hospitality managers.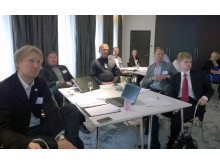 Hospitality Insiders Club's idea is to bring new ideas and tools to club members' daily work as well
as to share best practices. There is always a certain theme in every event which binds the academic part and case study together.
Tools for motivating the personnel
In the first Hospitality Insiders Club event in Estonia, the theme was motivating personnel – a very crucial and important issue for every manager in the service business. The quality and the customer experience heavily depends on the human touch – how your personnel treats the customer, which leads to the question: how motivated are they to do their work?.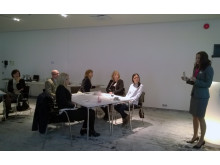 Senior Lecturer Meri Vehkaperä from Haaga-Helia managed to prove that motivation can be enhanced with intrinsic rewards rather than extrinsic ones. With intrinsic rewards, Meri referred to as "soft ways" of awarding of a well done job. She pointed that feedback, recognition, trust and good relationships in the working community are more important to employees than financial benefits and bonuses.
Meri Vehkaperä presented the results of a research which indicated that people who get positive feedback are the most motivated in their work. Employees who get developing (some might say negative) feedback, are the second motivated. People who never get feedback are the most de-motivated since their work doesn't seem to have a meaning.
Also Kaido Ojaperv, hotel Director of Palace Hotell, emphasized the meaning of feedback: "Employees live from feedback".
Kaido Ojaperv opened with the values of Palace Hotell – the same which also Meri Vehkaperä
raised in her presentation. Ojaperv underlined three cornerstones he wants his employees to feel: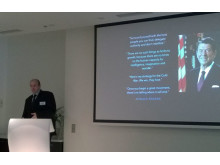 Autonomy – desire to drive own lives as well as own duties at work
Mastery – doing something big, something that matters
Purpose – doing something bigger, making world a better place
Meri showed an interesting video of those important cornerstones:
The participants seemed to find the day very interesting. Many new contacts were made and new ideas taken into workplaces. See you again in November 2015!
Text: Elisa Aunola
Learn more and join the Hospitality Insiders Club Estonia here >